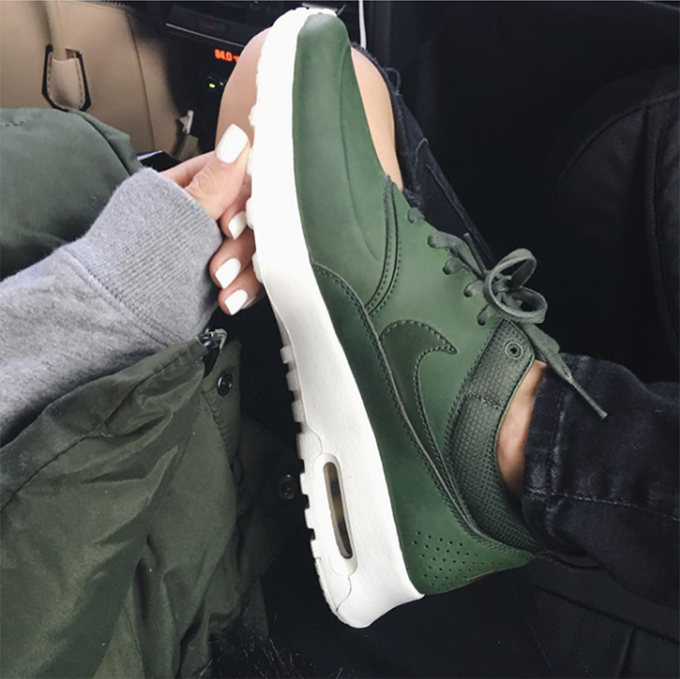 I am so in love with these sneakers!! I have always been a sneaker girl as much as I love heels. I actually have the burgundy pair too – I wore them in this post.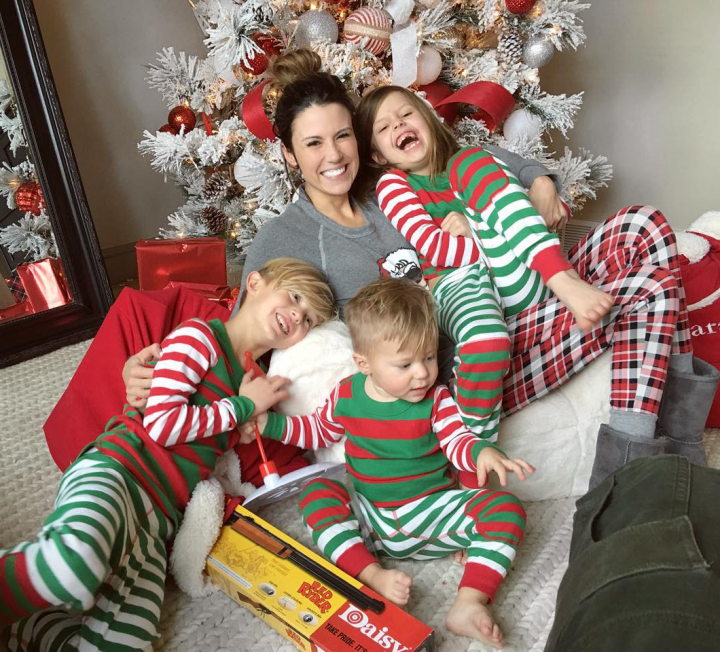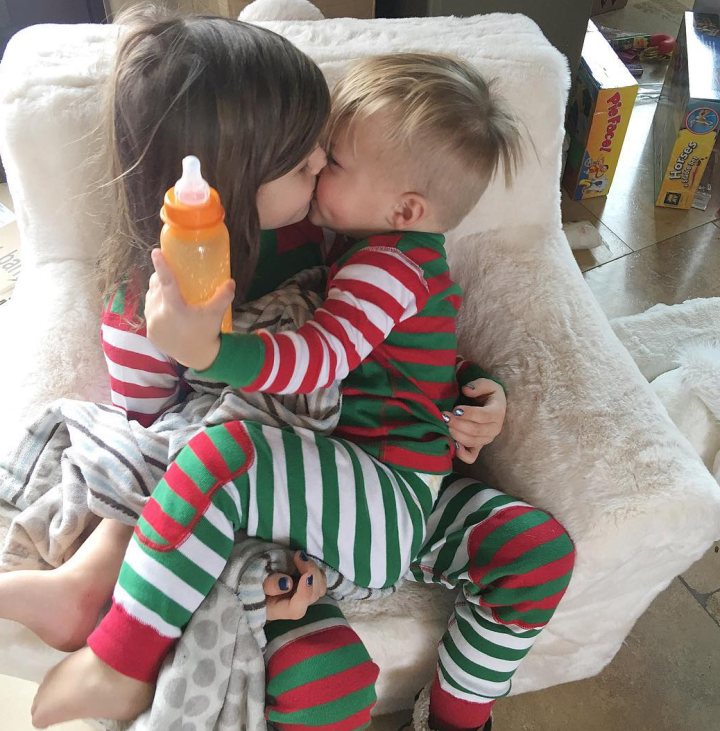 This was probably one of my favorite Christmas to date! The kids were all so excited and Cody and I decided to keep it really simple with gifts and make things for each other instead. Mara got this chair and B kept trying to steal it so every time she would go sit on it he kept going to give her kisses so he could sit with her. It was pretty cute!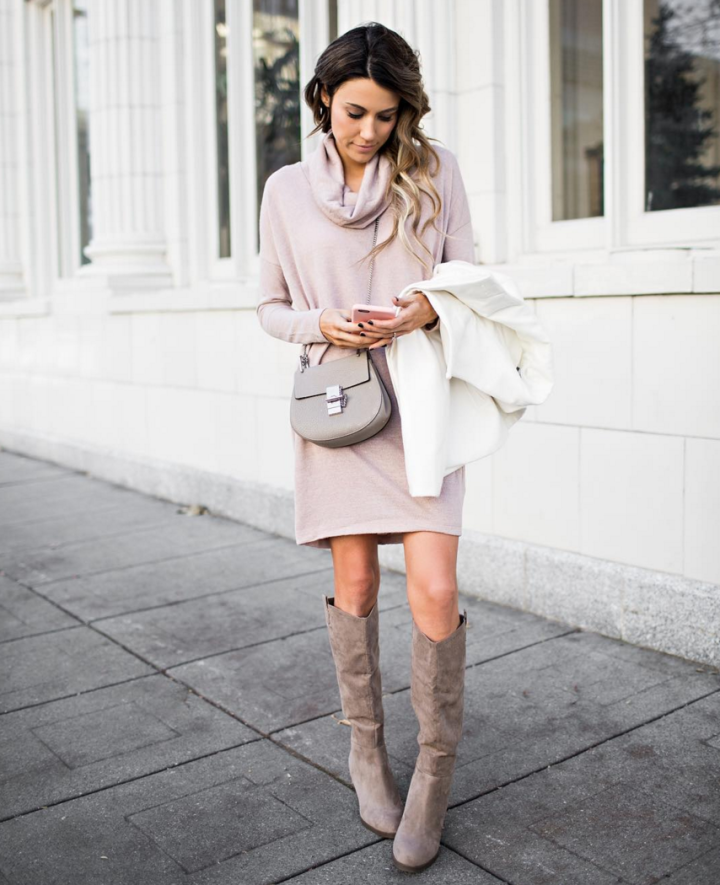 WHITE COAT | COWL-NECK SWEATER DRESS (30% OFF CODE: ENJOY) | CROSS BODY BAG | TALL BOOTS (30% OFF CODE: ENJOY) 
Love pastels in the winter!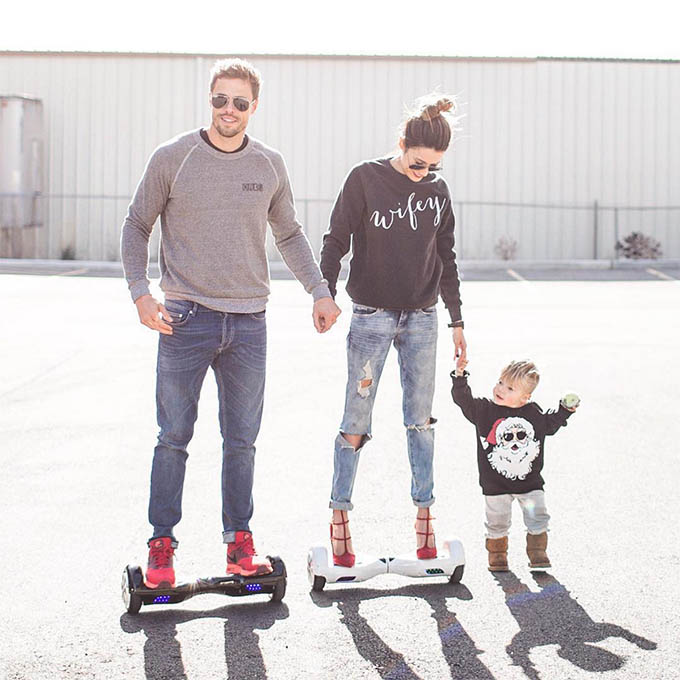 WIFEY SWEATSHIRT | DISTRESSED BOYFRIEND JEANS | RED PUMPS | AVIATORS
I love when Cody wears his matching sweatshirt (wifey and hubs) with me. It's cheesy I know but I still get excited 🙂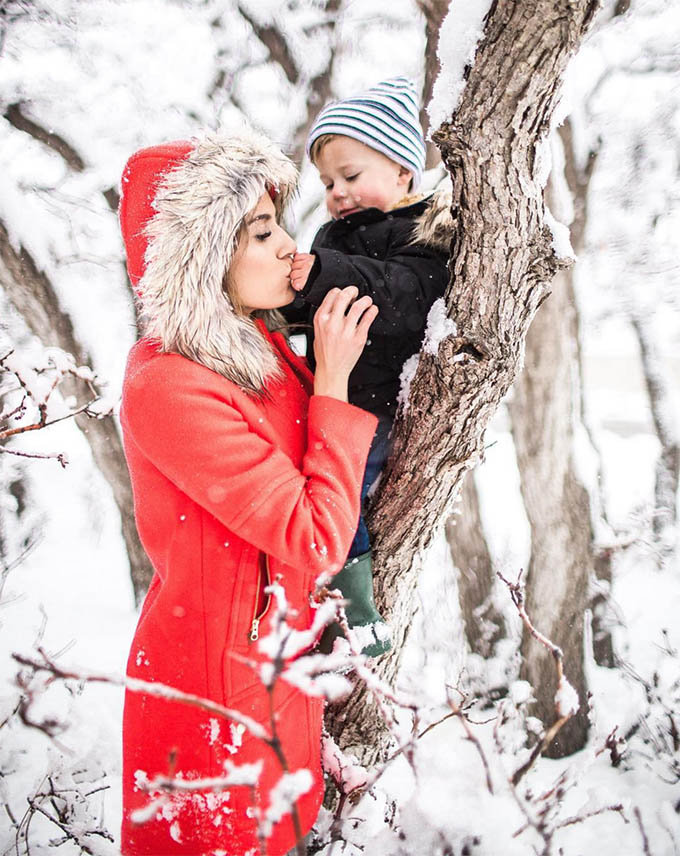 RED HOODED PARKA | BECKAM'S PARKA (ON SALE – EXTRA 40% OFF SHOPNOW)
This is the time to buy your kids coats for next year! I always buy off season! Beckam's coat is on sale right now and you can get an extra 40% off right now – CODE: SHOPNOW. Also if you follow me on insta you saw my quote with this pic – but in case you don't I saw it on Pinterest and loved it! I am such a sucker for quotes 🙂 It said: "May the way I look at you, the way I speak to you, and the way I treat you, reflect the truth… that I have loved you since forever"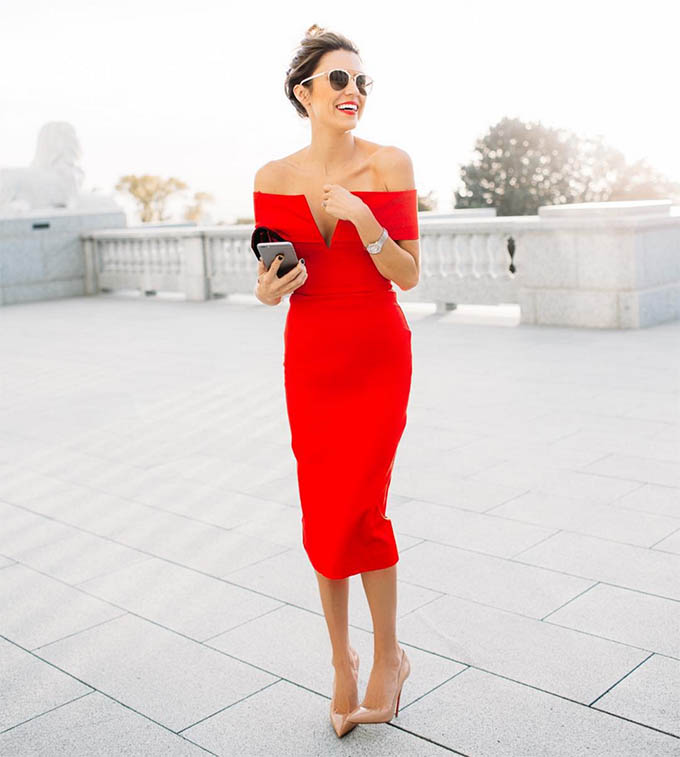 RED OFF-THE-SHOULDER DRESS | NUDE PATENT HEELS | SUNGLASSES | SILVER WATCH
This dress reminds me of the movie Pretty Woman minus the hooker part haha, but really every girl needs a sexy red dress and I love this one! I also found a similar more budget friendly version here.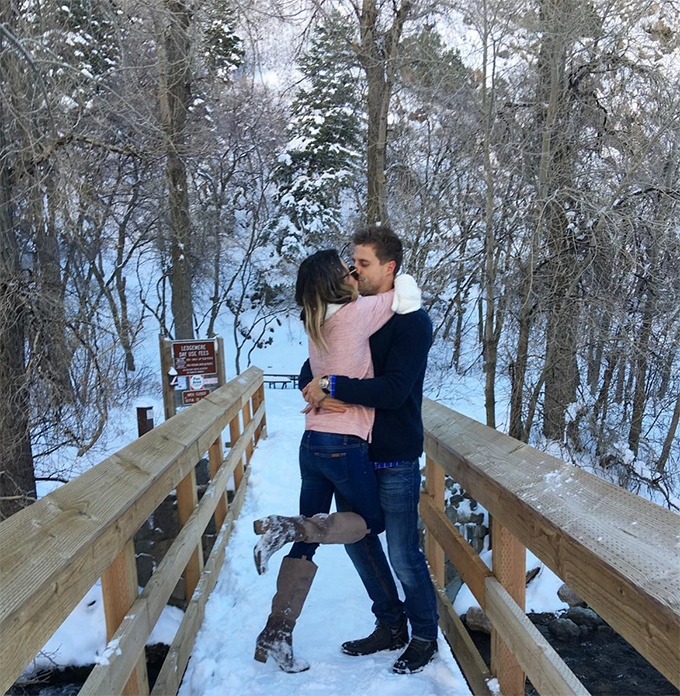 DETAILS:  PINK LONG SLEEVED TEE (ON SALE – ALSO JUST GOT THIS PINK TOP) | CREAM SCARF (ON SALE)| JEANS | MITTENS (ON SALE) | BOOTS (ON SALE)
Snow kisses 🙂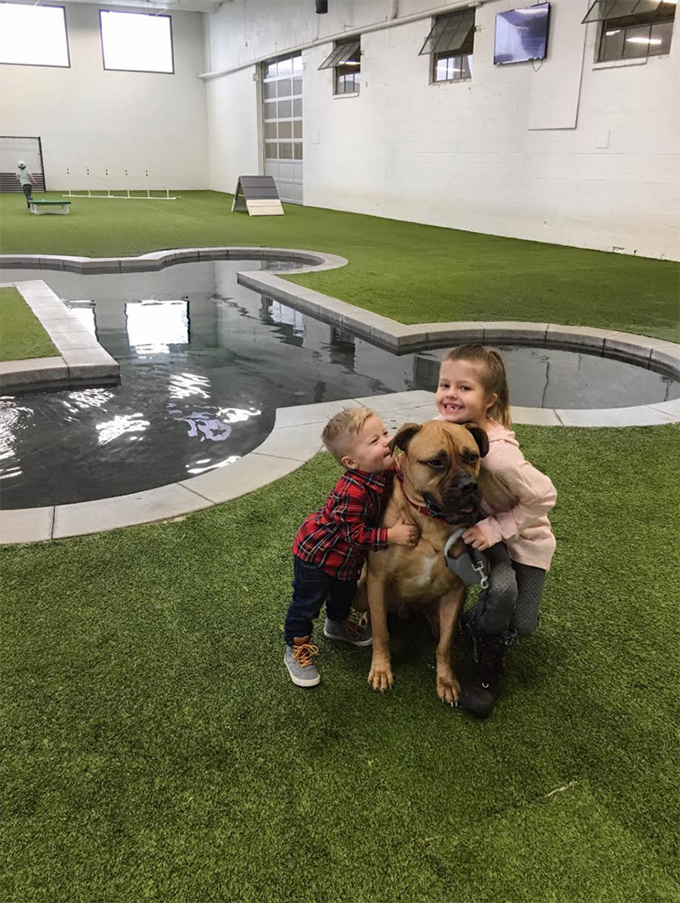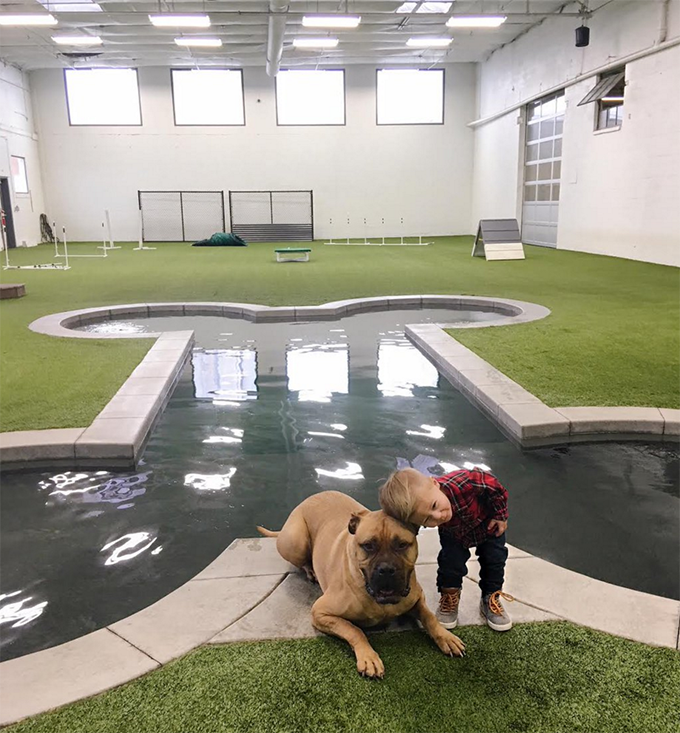 Mio's doggy daycare and grooming place has the cutest bone shaped pool! They also have hotel rooms for dogs – I'm talking like a queen sized bed with TV's it's pretty funny! If your in Utah it's called Unleashed Dog Hotel 🙂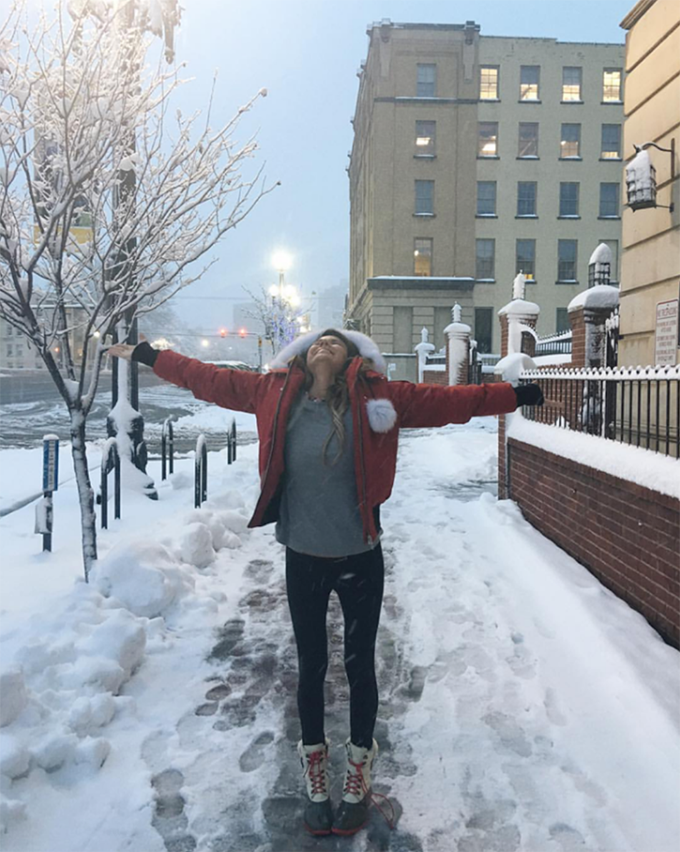 DETAILS: RED COAT | GREY SWEATER | BLACK LEGGINGS | SNOW BOOTS
This was on the first day it snowed – I can't tell you how happy snow makes me! I literally feel like a kid in the snow 🙂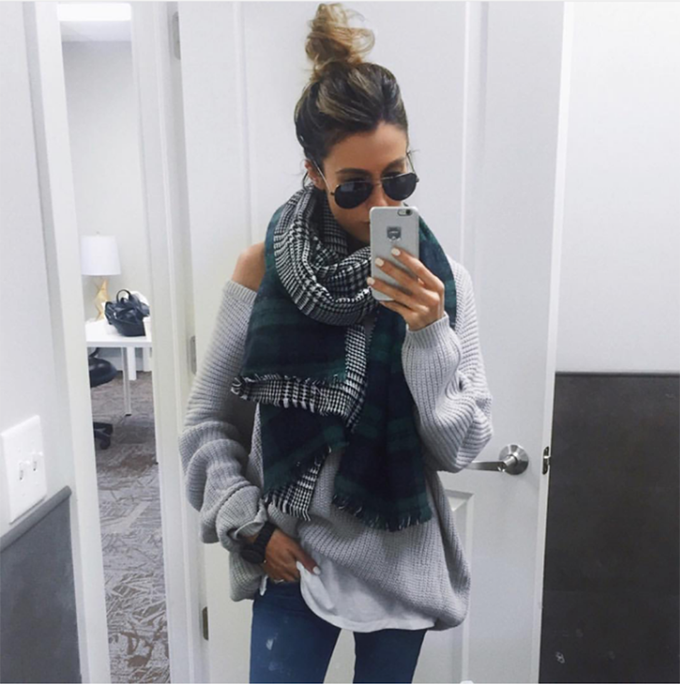 DETAILS: AVIATORS | BLANKET SCARF (ON SALE NOW) | GREY KNITTED SWEATER | JEANS
The scarf from this pic is on major sale! It's under $15 right now.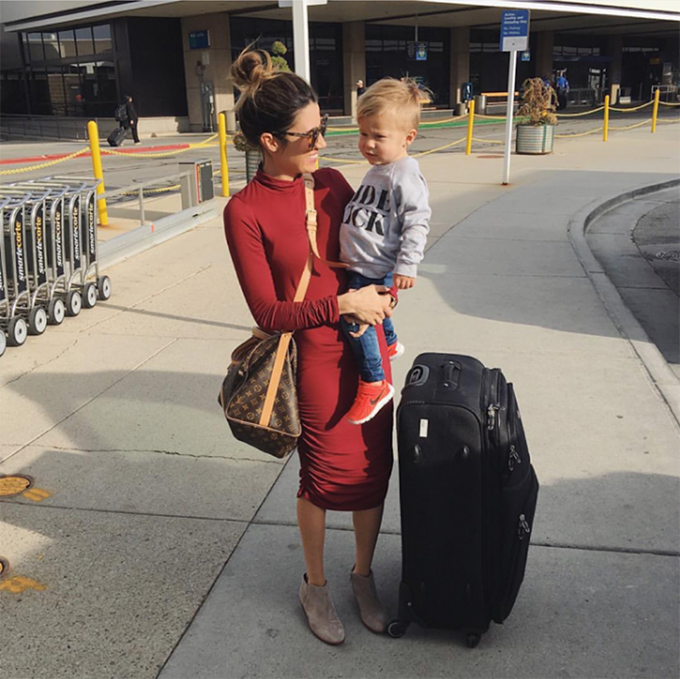 RED MOCK NECK DRESS (on sale!) | TORTOISE SUNGLASSES | DUFFLE BAG | BEIGE BOOTIES | BECKAM'S SIDEKICK SWEATSHIRT
This is another color of the dress I wore in yesterday's post. Also if you are looking for some super comfortable ankle booties these boots are amazing. It takes like two wears to break them in and then they become your favorite boots! I love the color too.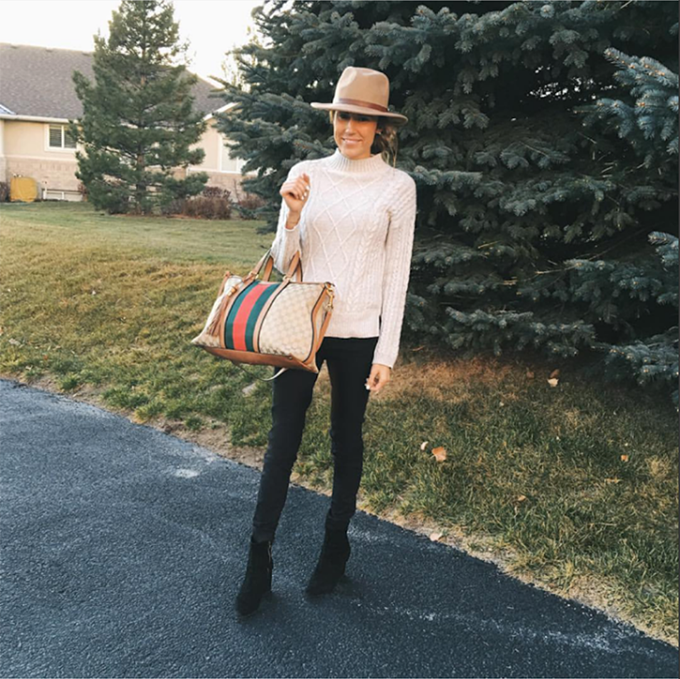 DETAILS:  | GUCCI HANDBAG | CAMEL FEDORA | CABLE KNIT SWEATER (SIMILAR HERE) | BLACK JEANS | BLACK BOOTIES
XX, Christine