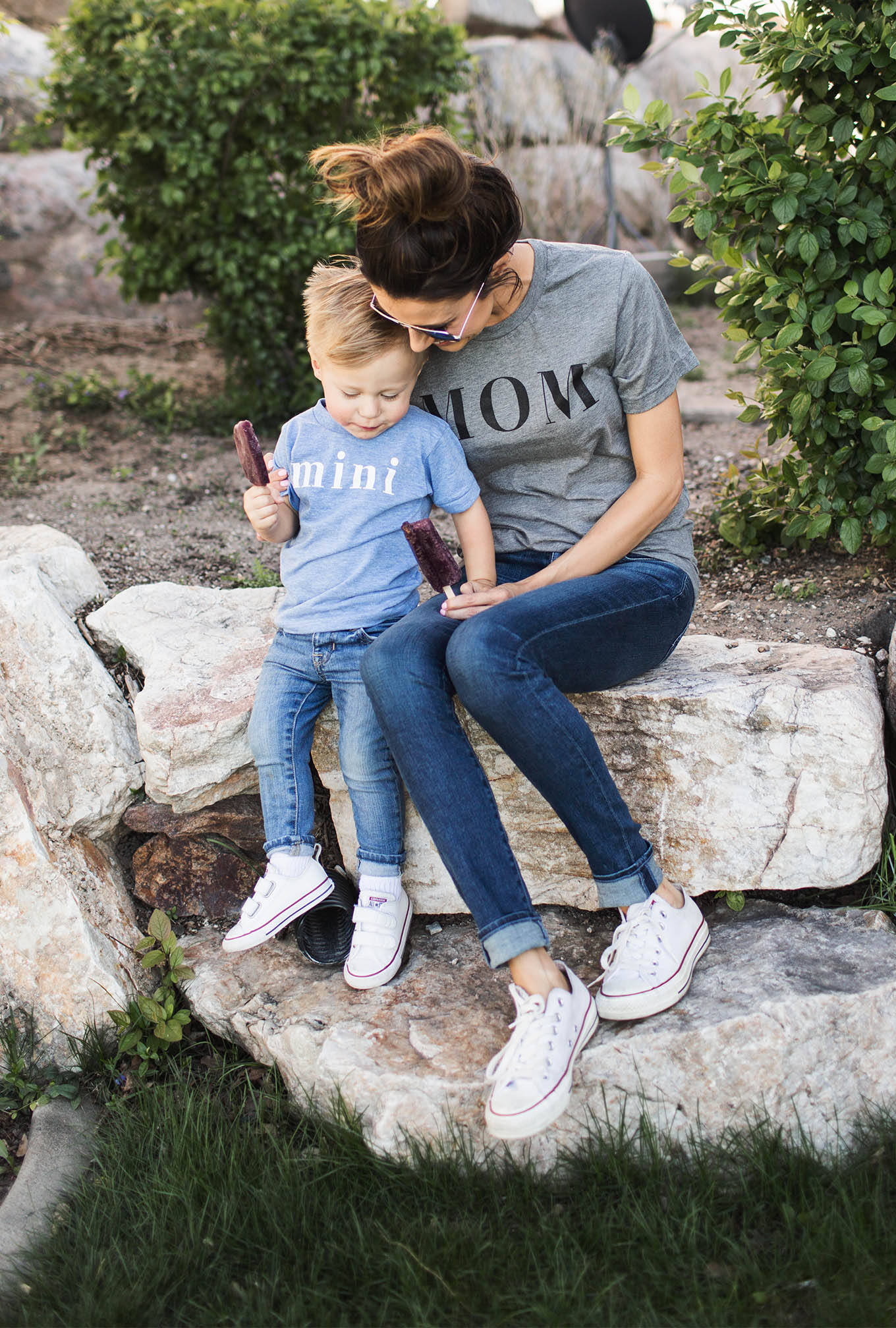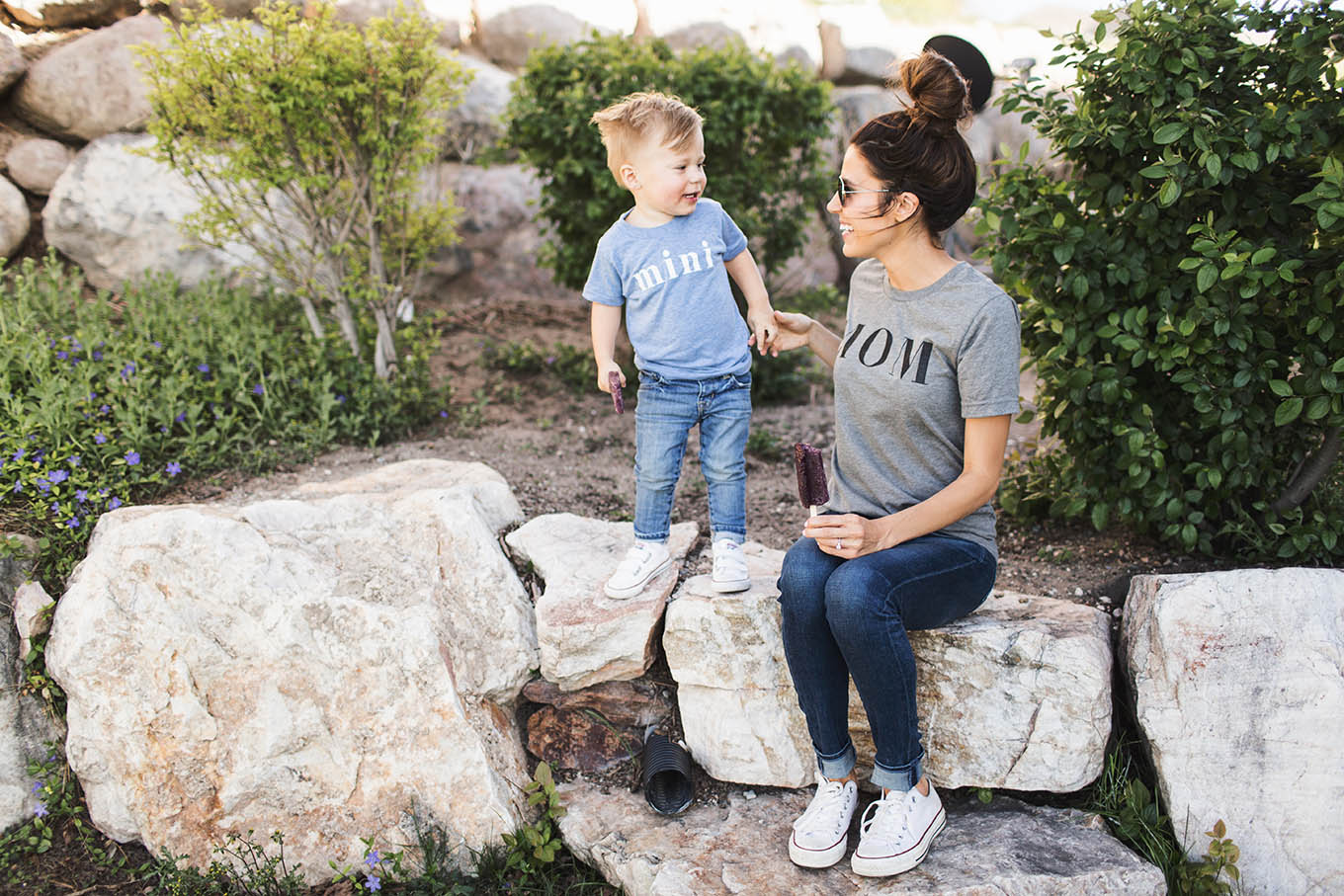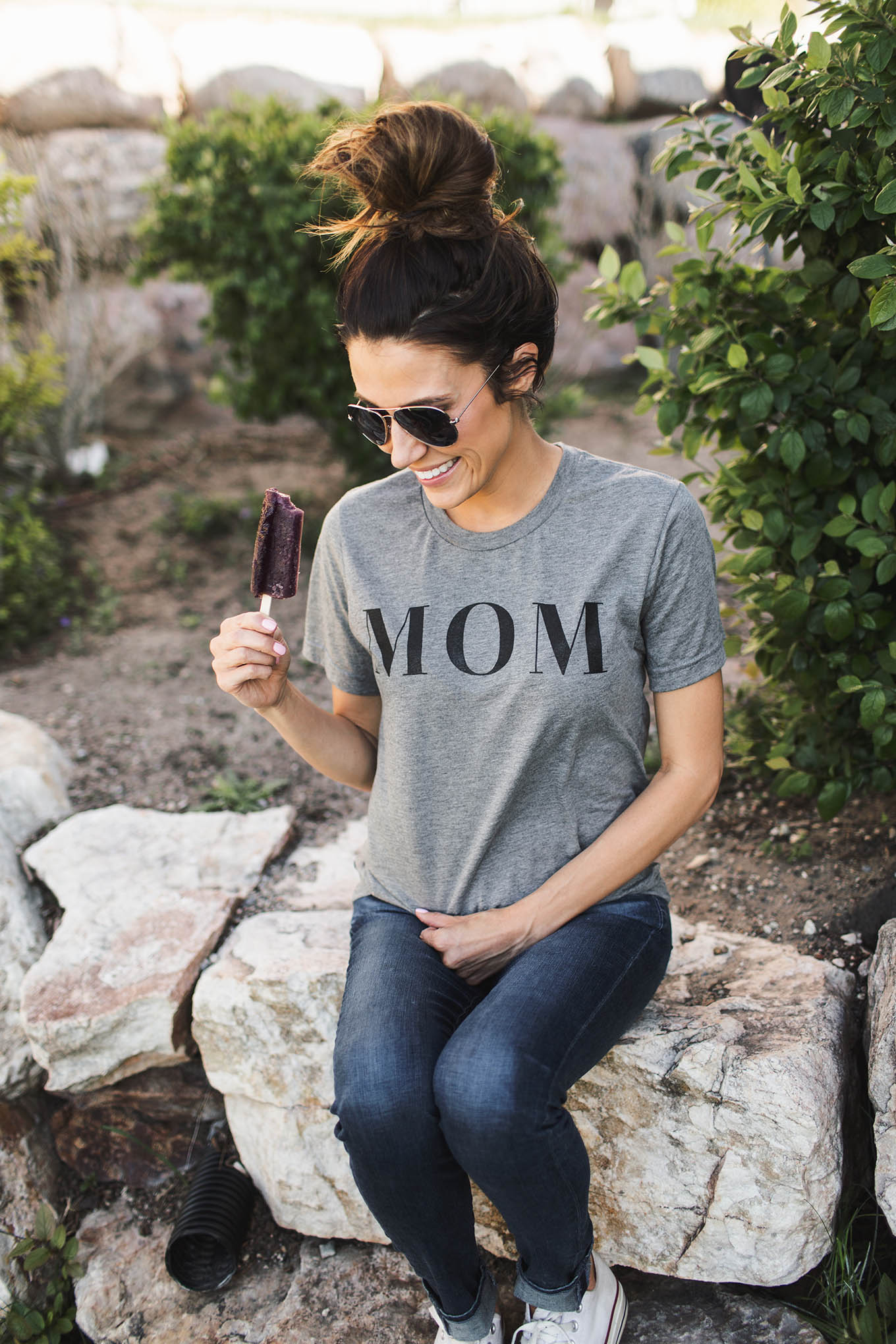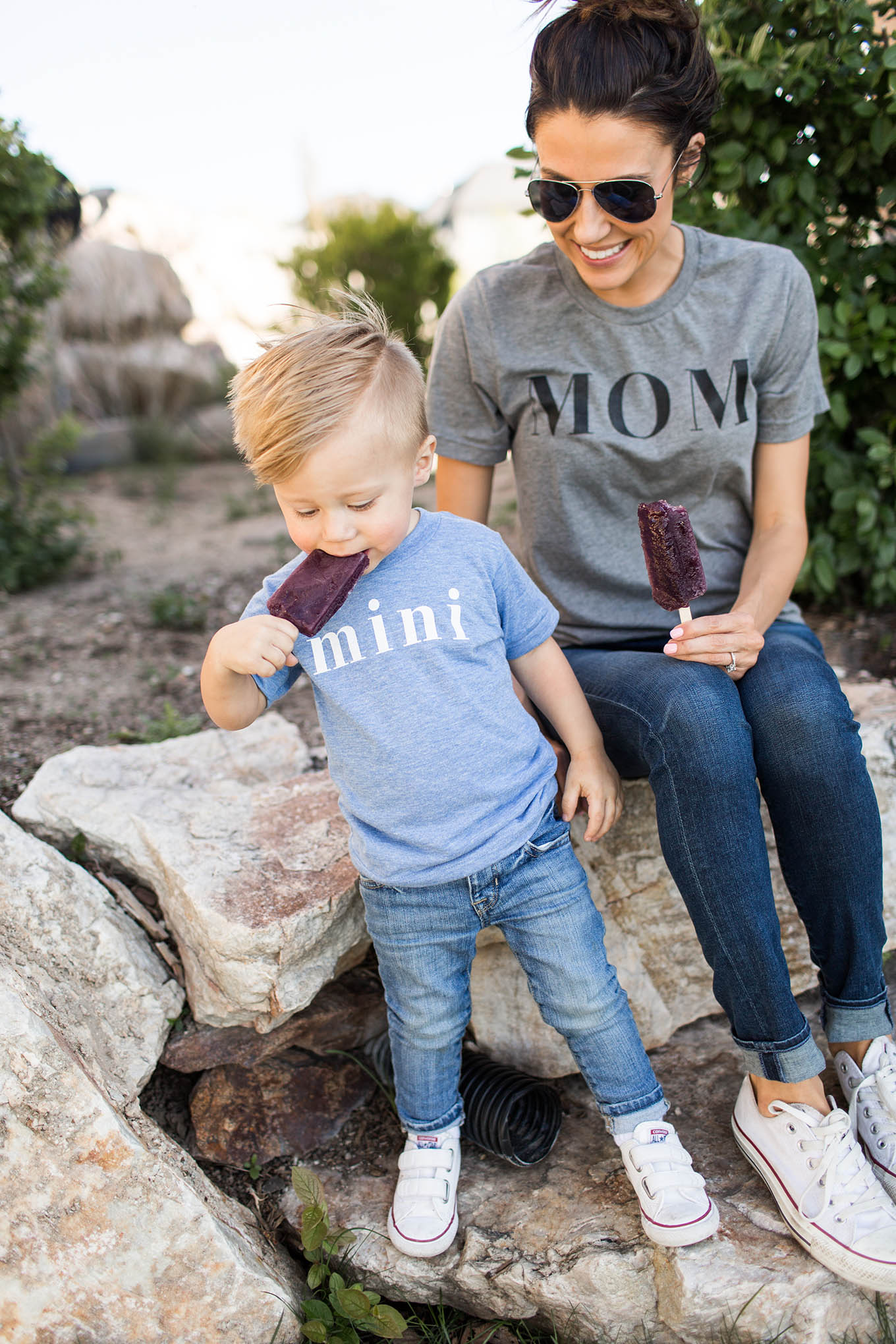 DETAILS: MOM TEE | DENIM | WHITE SNEAKERS | SUNGLASSES
BECKAM: MINI TEE (ALSO IN GREY HERE) | SNEAKERS
It seems like Mother's Day is one of those holidays that always sneak up on me. I have so many good ideas during the year but when it's approaching I seem to forget everything! We just added our family line to ILY with the mom tee and mini tee (and one for everyone else in the fam – full collection here) and they are a great budget-friendly gift for mom.
I also put together some of suggestions for the moms in your life below for all kind of budgets.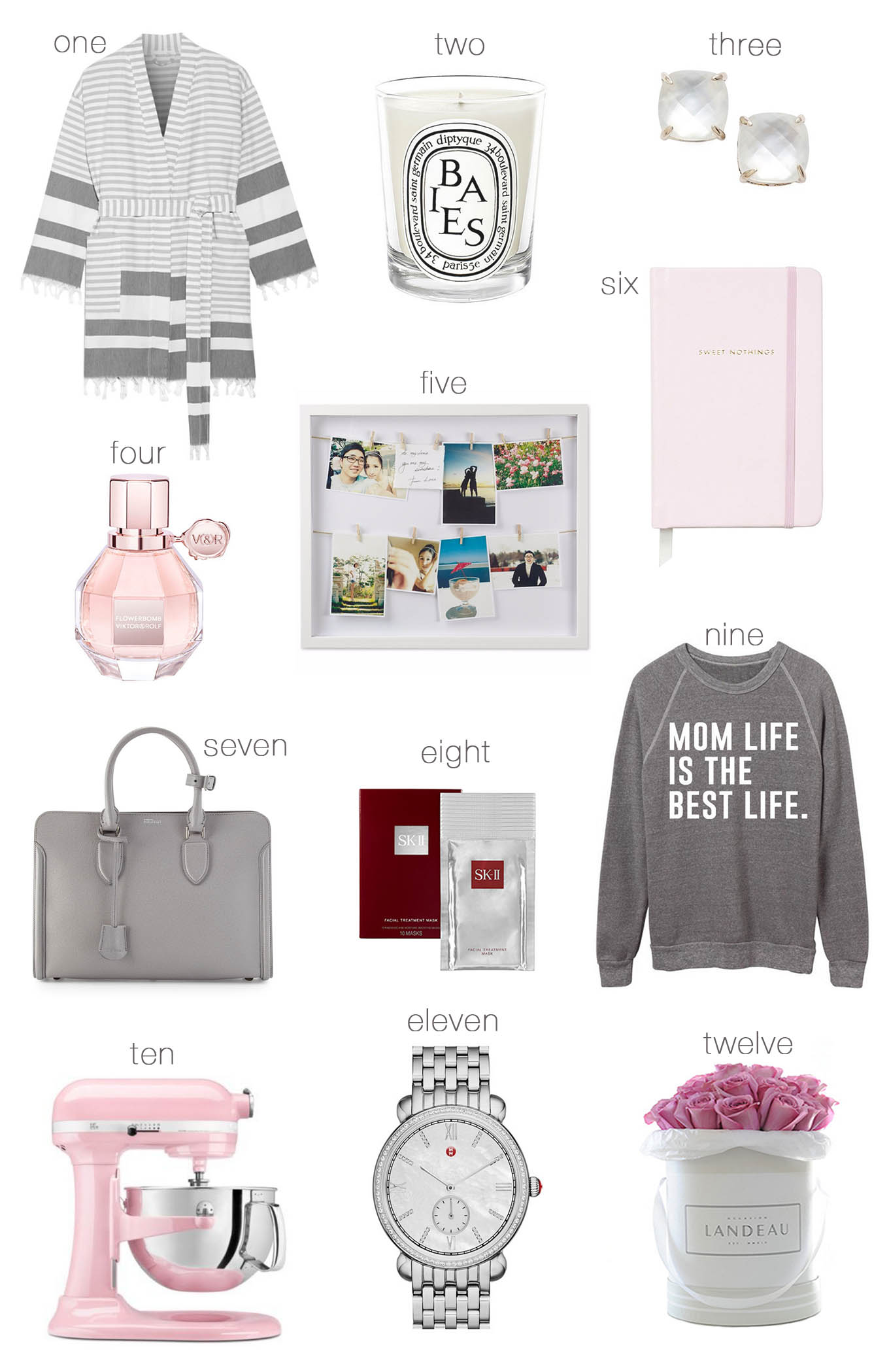 DETAILS: 1. GREY STRIPED ROBE | 2. CANDLE | 3. CRYSTAL STUDS | 4. PERFUME | 5. PICTURE FRAME | 6. NOTEBOOK | 7. GREY TOTE | 8. FACE MASK | 9.  MOM LIFE SWEATSHIRT | 10. MIXER | 11. SILVER WATCH | 12. FRESH FLOWERS
1. A cozy robe: You never realize how much your mom does until you have kids of your own – it's a lot! Give her another reason to kick back (as if she needed one) and relax in a soft robe. Also love this pink one!
2. Her signature or special fragrance: There's nothing more memorable than your mom's perfume. I get a whiff of one of my moms' perfumes and it instantly brings back floods of memories! Get her a bottle of her staple perfume or that one she always saves for special occasions.
3. Not-your-average face mask: I swear by these face masks. It works wonders on my skin and is such a worthy product for mom to indulge in!
4. The bag she would never buy for herself (but has always wanted to!): If you are in a position to splurge on something, who better to splurge for than your mom? Give her the gift she would never get herself and go big with that bag she's always had her eye on.
5. Something from the heart: Never underestimate a handmade gift. I have so many of the kids' homemade gifts and paintings framed or on display around the house and they are priceless. There are some amazing craft ideas on Pinterest like this homemade perfume and this clay jewelry dish.
Check out a few more great Mother's Day options below and share some of your favorite ideas for Mother's Day gifts!
XX,
Christine