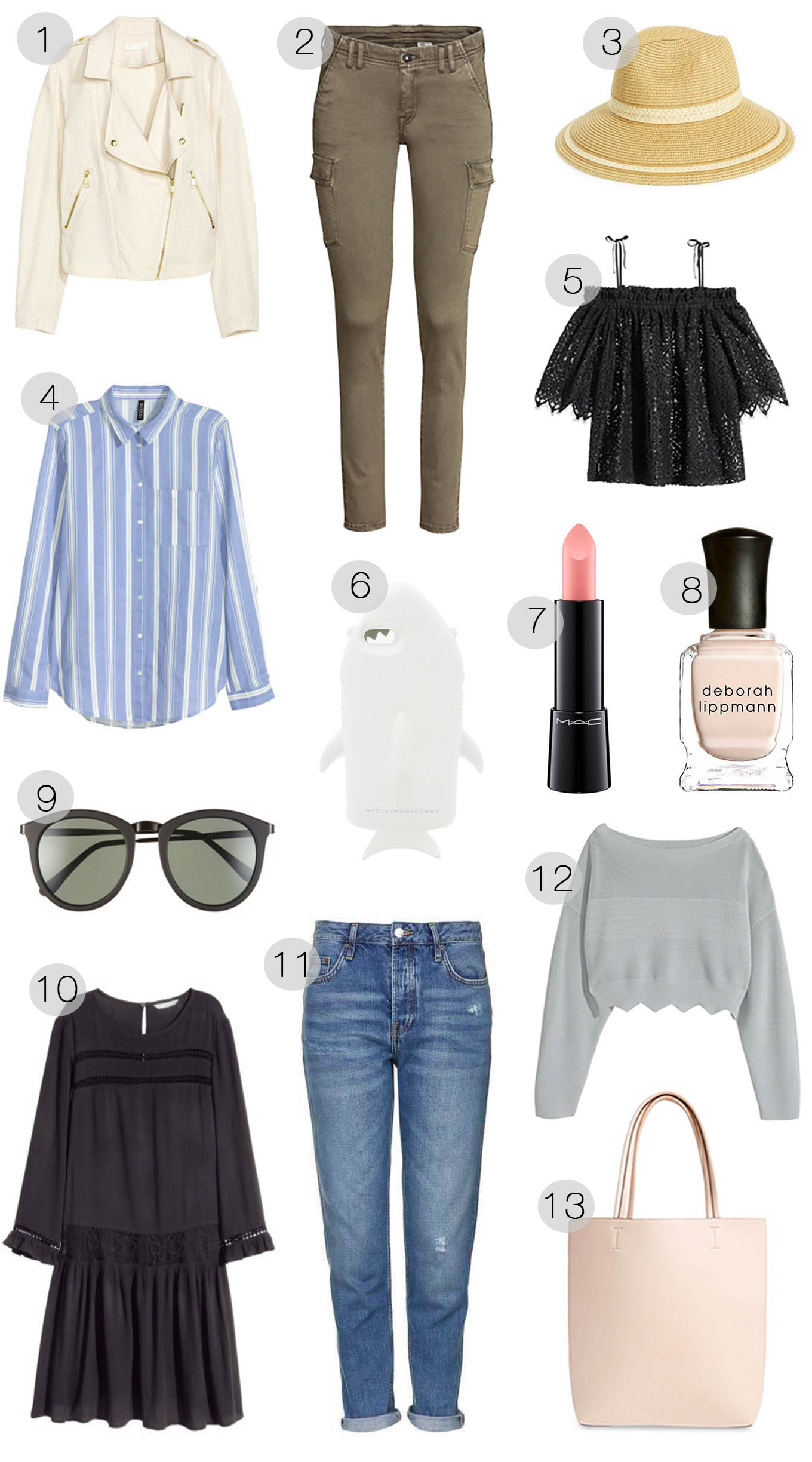 Pin It
DETAILS: 1. WHITE MOTO JACKET (UNDER $60) | 2. OLIVE CARGO PANTS (UNDER $30) | 3. STRAW HAT | 4. BLUE STRIPED BUTTON DOWN (UNDER $15) | 5. BLACK LACE OFF-THE-SHOULDER TOP | 6. SHARK PHONE CASE | 7. PINK LIPSTICK (SHADE: CYBERNAUT) | 8. NUDE NAIL POLISH (SHADE: SARAH SMILE) | 9. BLACK SUNGLASSES | 10. BLACK DRESS (UNDER $50) | 11. BOYFRIEND JEANS | 12. GREY CROPPED SWEATER | 13. BLUSH REVERSIBLE TOTE
A little confession guys…I might do a lot of online "window" shopping haha. This week I found some killer items for under $100 and they were just too good to keep to myself. 😉
First of all, you guys know I am loving all of the off the shoulder tops this season and this black top is the perfect excuse to jump on this trend. It's absolutely gorgeous with all the lace and you can definitely dress it up or down with your favorite jeans.
All of these fun silicone cases are everywhere and this shark one is so cute. I also love this ice cream cone case too! For all of you working ladies #4 is the perfect top to take from the office to a casual dinner – I still can't believe its under $15!
Below are a few more items under $100 I fell in love with too:

Hope you all have a great hump day!
XX,
Christine