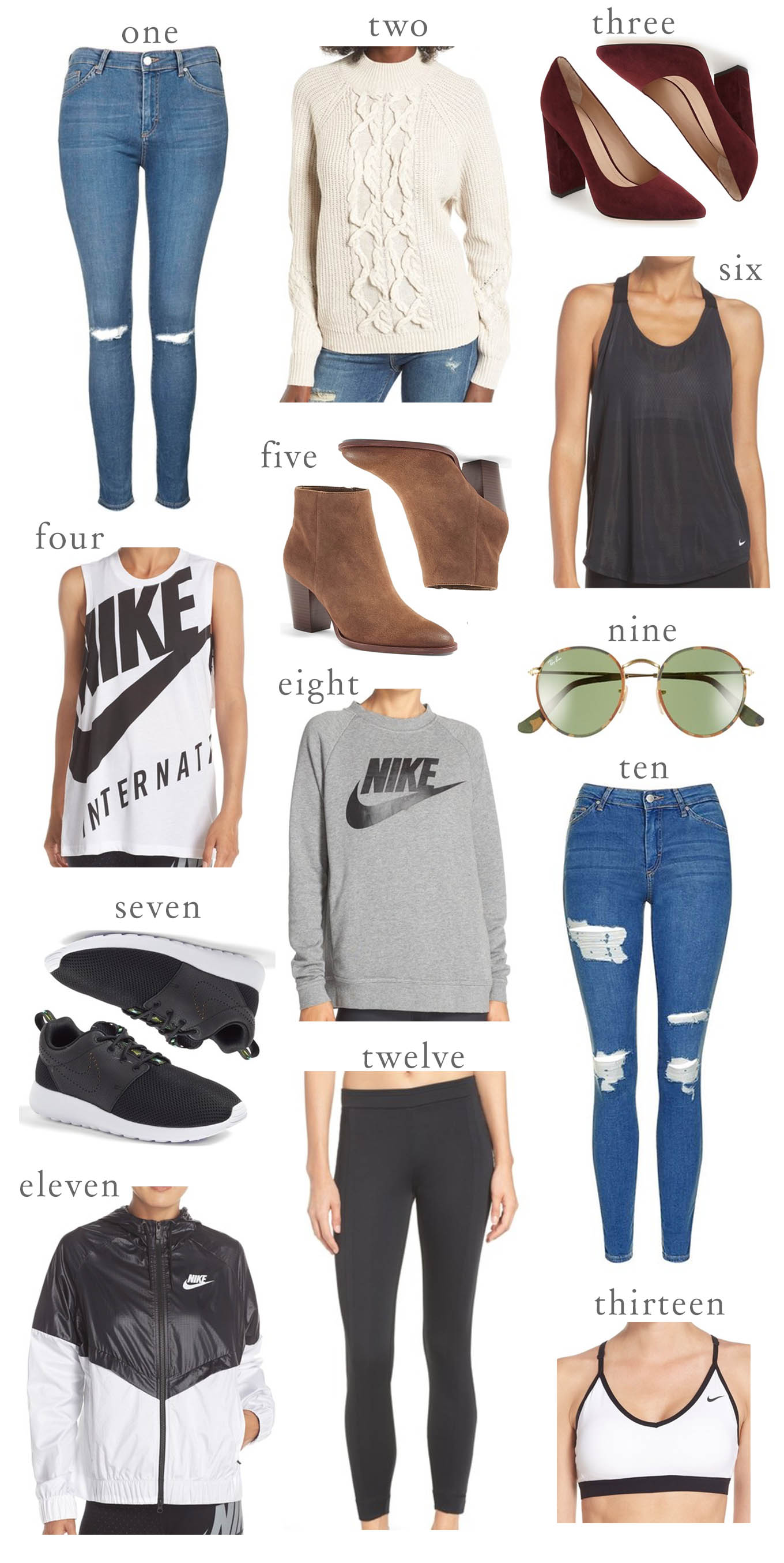 Pin It
DETAILS: 1. DISTRESSED DENIM (40% OFF – UNDER $50) | 2 CABLE KNIT SWEATER (40% OFF – UNDER $50) | 3. BURGUNDY SUEDE HEELS (40% OFF) | 4. NIKE MUSCLE TANK (50% OFF – UNDER $25) | 5. SUEDE BOOTIES (40% OFF – UNDER $100) | 6. MESH TANK TOP (40% OFF – UNDER $25) | 7. SNEAKERS ( | 8. GREY SWEATSHIRT (33% OFF – UNDER $50) | 9. ROUND SUNGLASSES (40% OFF) | 10. HIGH-RISE DENIM (40% OFF – UNDER $50) | 11. COLORBLOCKED WINDBREAKER (25% OFF) | 12. BLACK LEGGINGS (25% OFF) | 13. SPORTS BRA (25% OFF – UNDER $35)
And just like that, 2017 is just a few days away! I always feel like after the New Year means getting back down to business. After spending the majority of December in my sweats and favorite Christmas pajamas I feel like my wardrobe is in need of a refresher. Here are 5 pieces every wardrobe needs for the new year – all of which are on sale right now.
1. A Sweater You'll Wear Everything. By amount the end of November I start feeling like I've cycled through most of my knits and sweaters a time or two. I love this cable knit sweater (on sale under $50) – the detailing is perfect for an office look or with your favorite boyfriend jeans and booties.
2. An Addition (or 2) to Your Shoe Collection. When you are wearing boots 7 days a week during the dead of winter (thank you Utah snow! but really because I love boot season 😉 can you ever really have enough options? I love this one – it's a great heel height you can wear anywhere and it's at a great price point right now under $100 (on sale). Also saw this amazing pair (40% off) and it was in my cart 2 seconds later – obsessed with the chunky heel and how pretty is the burgundy suede?
3. Fresh Workout Gear. Tis the season of New Year resolutions! Being healthier is a constant among most people's resolutions and what's better motivator than fresh workout wear? I love this graphic logo tank and colorblocked windbreaker (a must for those outdoor activities). I'm a sucker for Nike and there are so many great pieces on sale at Nordstrom right now – also love these sneakers.
4. Denim, Denim and More Denim. I always stock up on denim whenever it's on sale. Topshop is one of my favorites for budget denim – this pair and this one are both under $50. I can't get enough of the distressing and high-waisted combo right now.
5. An Oversized Sweatshirt. Ok I will never say no to cozy, oversized sweatshirts. I always size up for a baggier fit and the Nike ones are always so cozy that I'm always tempted to get one in every color haha. Love this one!
The Nordstrom Half-Yearly sale has tons of good finds up to 50% off through January 2nd but sizes always sell out really quick so it's always a great time to buy. And as always it's free shipping and returns so you can try out a few different sizes or pieces if you can't make it in-store. You can find more of my favorites from the sale below.

XX, Christine
*In collaboration with Nordstrom and ShopStyle.