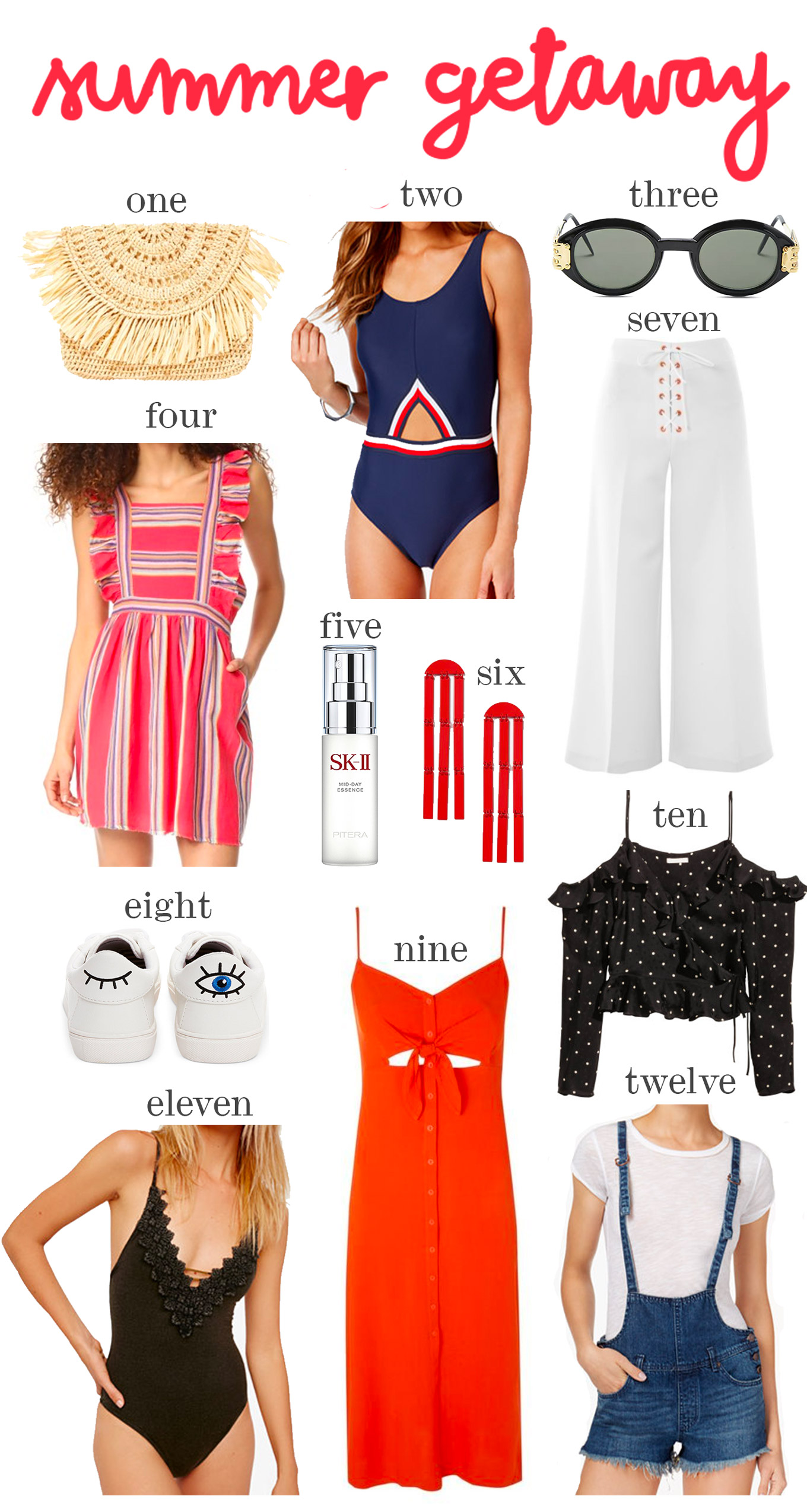 Pin It
DETAILS: 1. STRAW CLUTCH (UNDER $50) | 2. CUT-OUT ONE PIECE SWIMSUIT (UNDER $100 – ALSO OWN THIS ONE – LOVE THIS ONE) | 3. OVAL SUNGLASSES (UNDER $50) | 4. STRIPED RUFFLE DRESS | 5. SK-II MIST | 6. DROP EARRINGS (UNDER $50) | 7. WHITE LACE-UP TROUSERS (UNDER $100)| 8. WINK SNEAKERS (UNDER $100)| 9. RED CUT-OUT DRESS (UNDER $100) | 10. BLACK POLKA DOT COLD SHOULDER TOP (UNDER $50) | 11. BLACK EMBELLISHED BODYSUIT (UNDER $50)| 12. OVERALL SHORTS (UNDER $100 – ALSO LOVE THESE CUT-OFFS)
Happy Thursday!! I'm heading out of town next week to Europe and found a few gorgeous pieces I wanted to share! Almost everything is under $100 too – so many good finds!
I just ordered this button down red dress (under $100 – also comes in blush) – how pretty is the cut-out detail!? Also got these pretty statement earrings and white lace up trousers – obsessed!
Another one of my travel essentials is good sneakers and I looove the wink detail on the back of these! The fun colorful detail gives it so much personality. Also how cute are these overall shorts? I love the overall look and this dropped neckline feels really fresh for summer. It would be super cute over a bikini for a beach day.
Below are a few more great finds for the summer!

And these all under $100:
XX, Christine