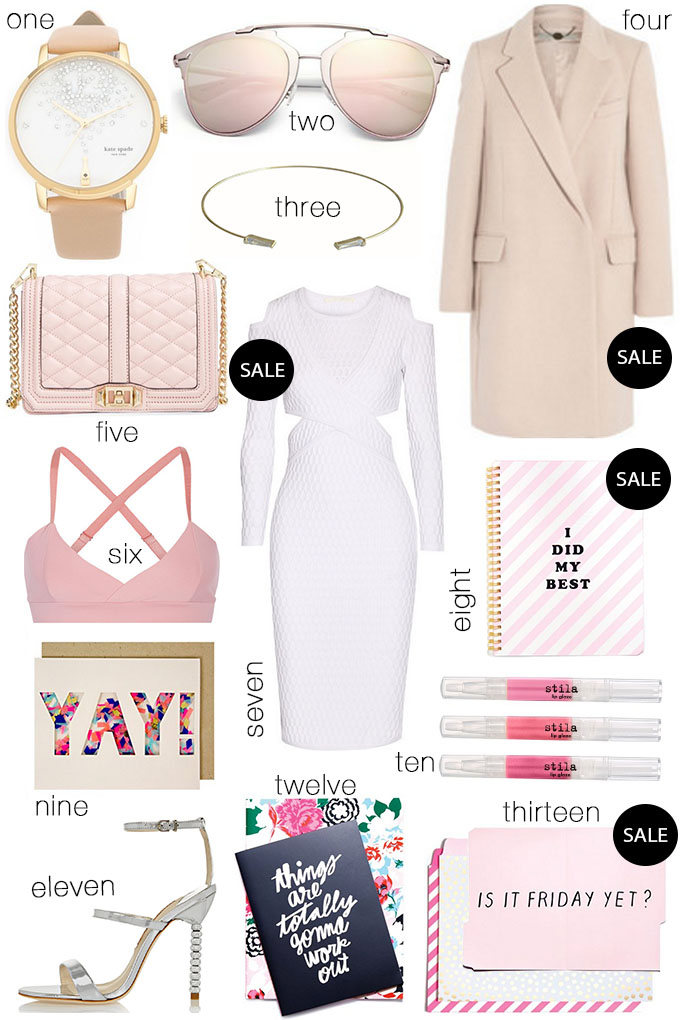 Pin It
DETAILS: 1.
WATCH
| 2.
SUNGLASSES
| 3.
DAINTY GOLD CUFF
 | 4.
CAMEL COAT
 (40% OFF) | 5.
PINK CROSSBODY BAG
| 6.
PINK STRAPPY SPORTS BRALETTE
 | 7.
WHITE CUT-OUT DRESS
 (60% OFF) | 8.
'I DID MY BEST' NOTEBOOK
 (40% OFF) | 9.
YAY NOTE CARD
| 10.
PINK LIP GLOSS SET
 (< $20) | 11.
STRAPPY SILVER HEELS
| 12.
FLORAL NOTEBOOK SET
| 13.
PINK FOLDER SET
 &
FRIDAY FOLDER
 (40% OFF)
Happy New Year guys! Thank you all so much for following along last year – it was one for the books! Hope you all had an amazing break and are as excited for 2016 as I am!
The beginning of another year is always a great excuse to get organized. Below are a few staples to brighten up your office and keep you on top of it for the New Year.
Calendar: I always look forward to the January for an excuse to get a new calendar. There are always so many designs and styles that it's hard to choose just one! I love this one for the jetsetter or this clean, classic design.
Notebooks: No matter how much I rely on my phone and computer during the day for work, sometimes there's just no replacement for an old fashioned pen and paper. How cute it this optimistic set and this striped one?
Note Cards: I'm a firm believer in the power of hand-written cards for any occasion. I'm a sucker for them! I love this confetti card set and this colorful option.
What are some of your first buys of the New Year?
XX,
Christine