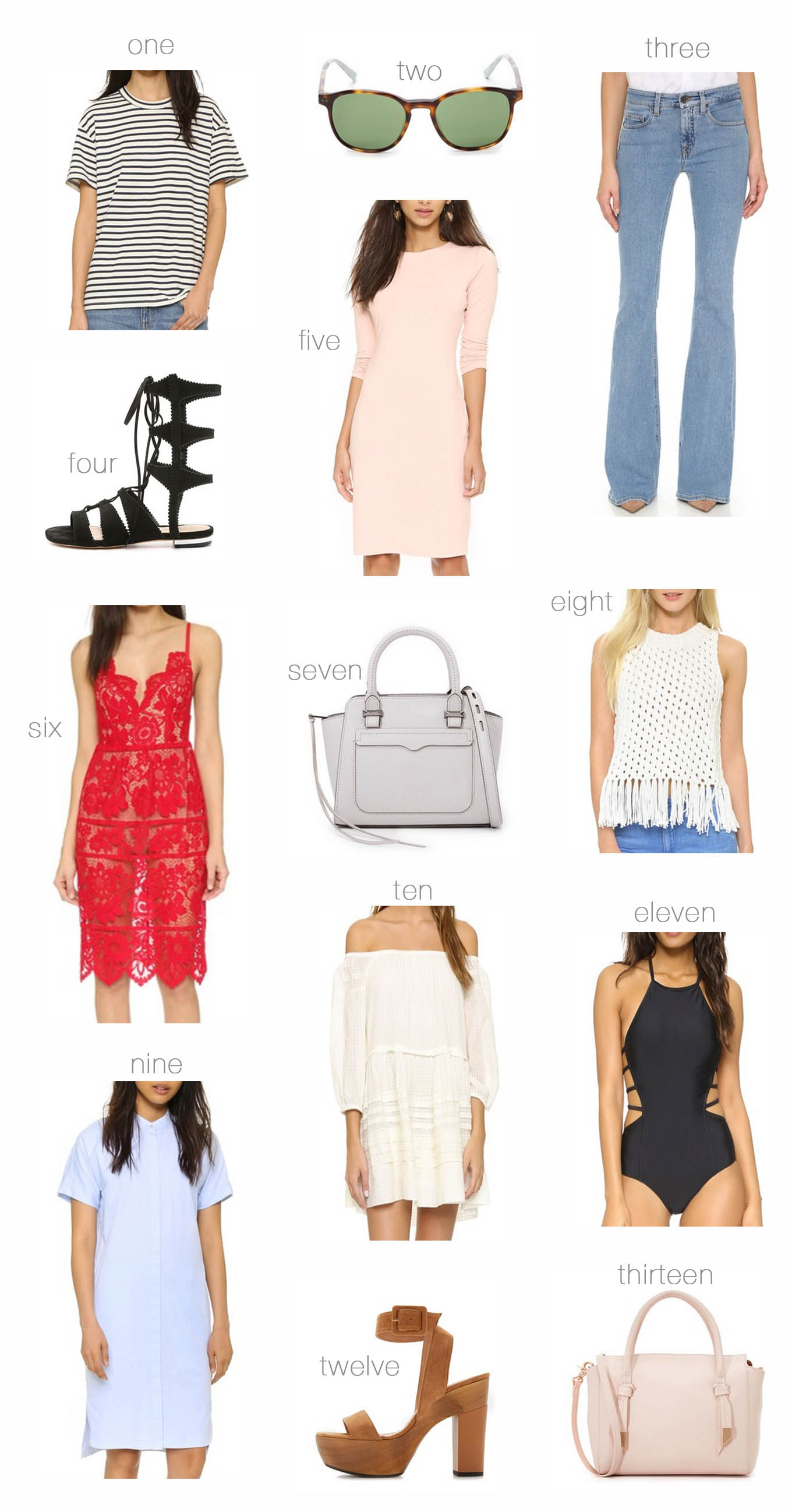 Pin It
DETAILS: 1. STRIPED TEE (30% OFF) | 2. SUNGLASSES (30% OFF) | 3. FLARED DENIM (40% OFF) – LOVE THESE BOYFRIEND JEANS | 4. BLACK GLADIATOR SANDALS (30% OFF) (ALSO LOVE THIS COLOR) | 5. BLUSH DRESS (20% OFF) | 6. RED LACE DRESS (30% OFF) | 7. GREY MICRO TOTE (30% OFF) | 8. WHITE FRINGE SLEEVELESS TOP (40% OFF) | 9. BLUE BUTTON-UP SHIRT DRESS (40% OFF) | 10. WHITE OFF-THE-SHOULDER DRESS (30% OFF) | 11. STRAPPY BLACK ONE-PIECE SWIMSUIT (30% OFF) | 12. TAN SUEDE SANDALS (40% OFF) | 13. BLUSH TOTE (20$ OFF)
Hey guys! I was popping over to Shopbop yesterday and saw the are having a surprise sale – don't you love when that happens! They had some great styles on sale through tomorrow- some new ones and then some of my old favorites that have been on repeat in my wardrobe. So I wanted to share a few of my top picks from the sale at up to 40% off!
I love me some bikinis but I've been drawn towards one pieces lately! Love this black strappy number that shows just the right amount of skin. This is also a great fringe piece that is perfect for the beach or your upcoming summer vacations and you know I couldn't get past the off-the-shoulder options without falling for one… how pretty is this one in ivory? I also am obsessed with this amazing blush tote. It's such a pretty color and I love the knotted strap detail.
There are also a few pieces I've been featuring lately that just went on sale including this hat (last seen in this post) and these white slip-ons that I have been wearing non-stop lately. I also have this dress and got these gladiator sandals which you probably recognize from last summer when I wore them all the time – such a good buy!
Find a few more great pieces on sale up to 40% off below:
XX,
Christine