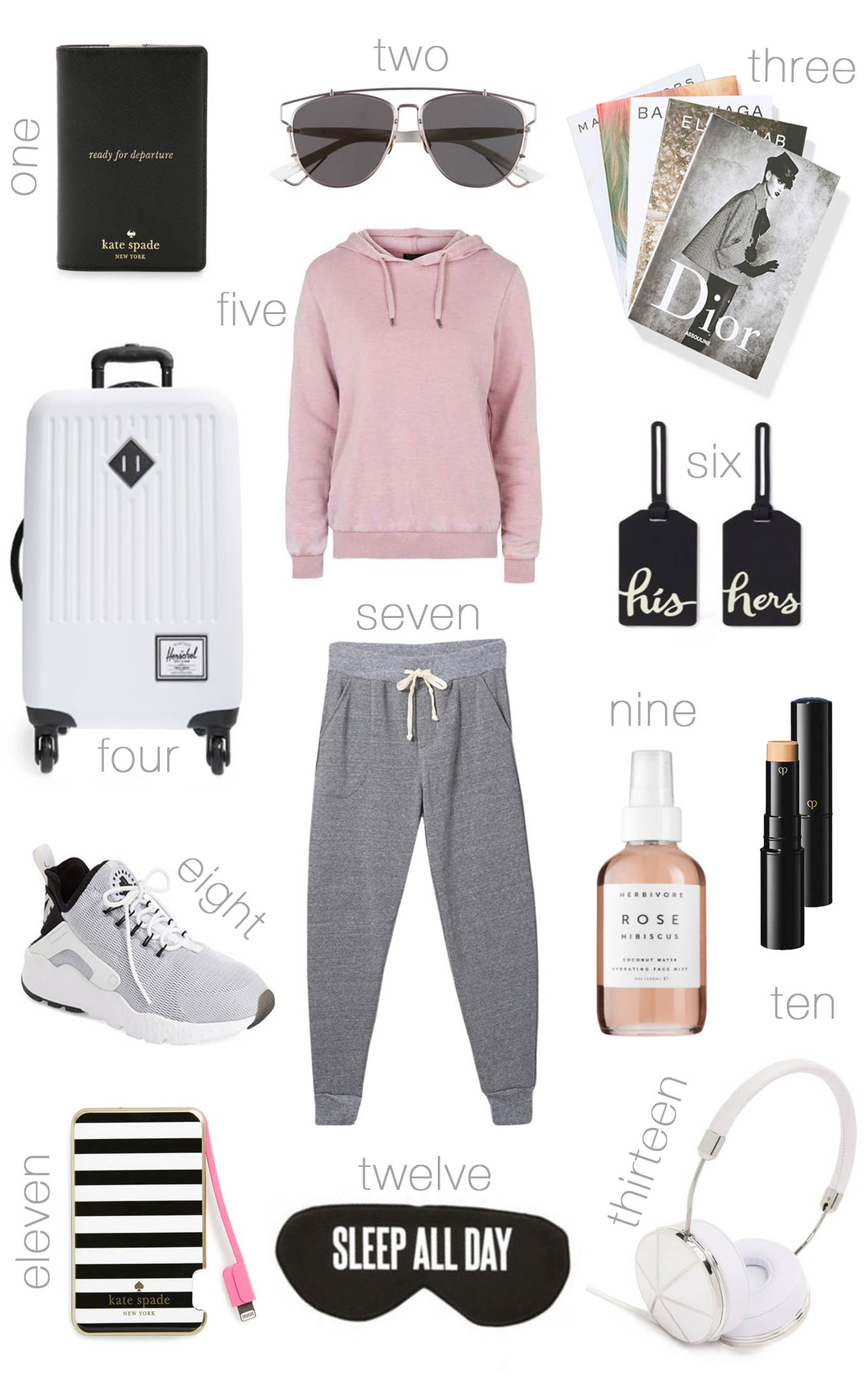 Pin It
DETAILS: 1.
PASSPORT COVER
| 2.
SUNGLASSES
| 3.
FASHION DESIGNER BOOK SET
 | 4.
WHITE CARRY-ON SUITCASE
| 5.
COZY SWEATSHIRT
 (UNDER $50 – MORE COLORS
HERE
) | 6.
LUGGAGE TAGS
| 7.
GREY JOGGERS
 (UNDER $60) | 8.
SNEAKERS
| 9.
HYDRATING FACE MIST
| 10.
CONCEALER
| 11.
PORTABLE CHARGER
 | 12. 
EYE MASK
 | 13.
HEADPHONES
Cody and I are heading to Europe tonight! We are so excited but the real fun doesn't start until we touch down after our 10 hour red-eye. I wanted to share a few essentials to help you survive that seemingly endless flight (and the jet-lagged look the next day).
Travel Style

: There's no replacement for comfort when you spend the night on the plane, so don't think twice when you reach for soft joggers and sneakers. And you'll be glad for an extra layer – love this cozy hoodie under $50.

In-Flight Entertainment

:  Hellooooo wifi! Don't forget a portable charger to keep your electronics juiced. I always bring a few good reads and headphones for my current playlist. 🙂

Faking a Full Night's Sleep

: For a mid-flight fix, this hydrating facial mist is a great skin pick-me-up. I also love this eye mask (that will be just as handy on the plane as when you sleep off your jet-lag after you get to your destination ;). If you have a full day ahead, don't forget the fastest cover-up: a good pair of sunglasses! Add a swipe of this concealer (I swear by it) and nobody will guess you've just spent the night on a plane.
Follow along to see where we end up on our trip on snapchat @hellofashblog and Instagram @hellofashionblog.

XX, Christine