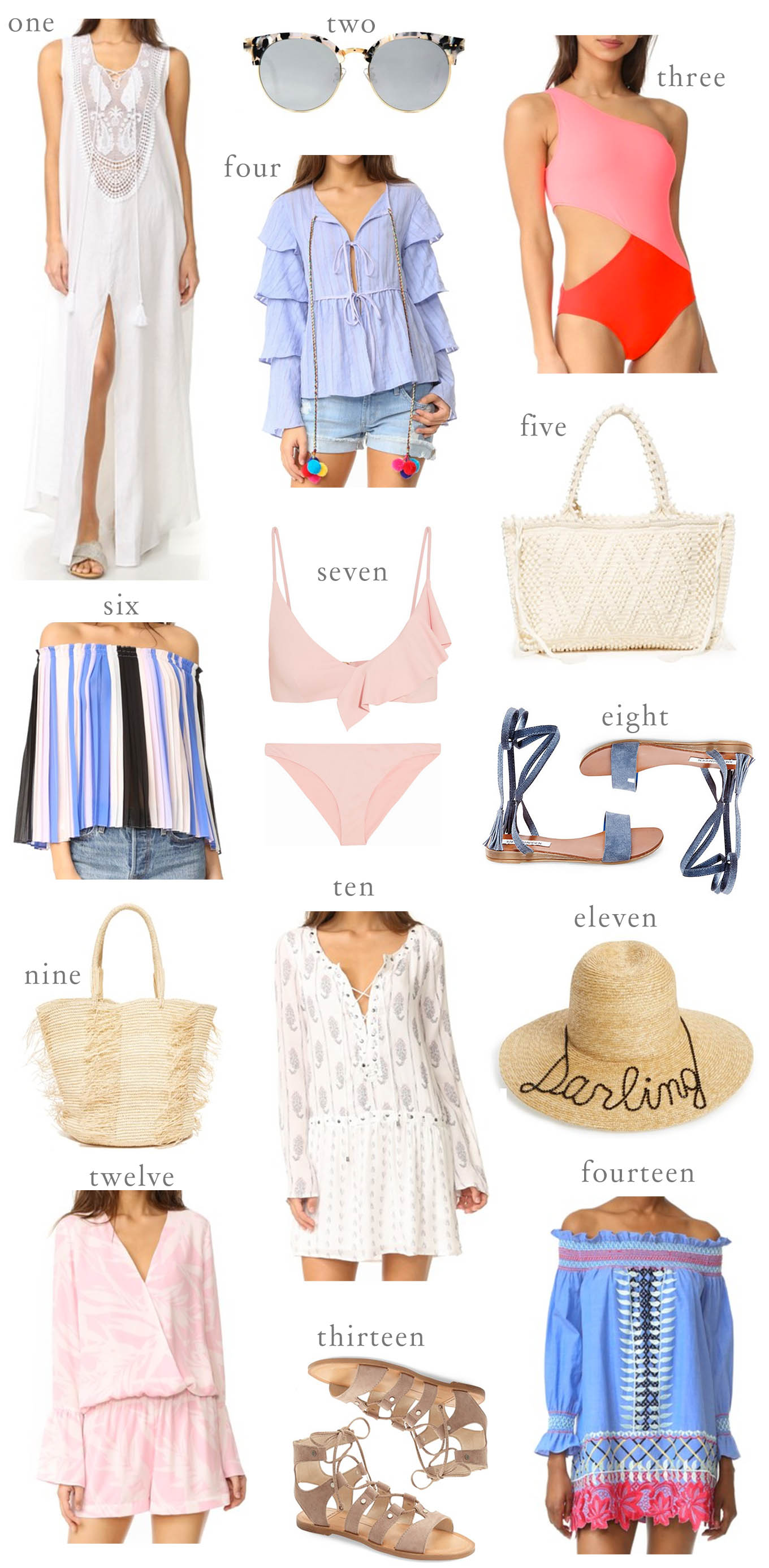 Pin It
DETAILS: 1. CROCHET LINEN MAXI DRESS | 2. SUNGLASSES | 3. COLORBLOCKED SWIMSUIT | 4. RUFFLED POM-POM TOP (UNDER $100) | 5. WHITE CROCHET BEACH BAG | 6. STRIPED OFF-THE-SHOULDER | 7. BLUSH RUFFLED SWIMSUIT | 8. BLUE ANKLE-WRAP SANDALS (UNDER $100) | 9. STRAW BEACH TOTE | 10. LACE-UP PRINT DRESS | 11. EMBROIDERED SUN HAT | 12. BLUSH PRINT ROMPER | 13. NUDE GLADIATOR SANDALS (UNDER $100) | 14. BLUE OFF-THE-SHOULDER DRESS
I always get that itch mid-January to get out of dodge and find a warm, sunny beach! I've found a lot of great pieces while shopping for our upcoming family trip (stay tuned on Snapchat @hellofashblog and Instagram @hellofashionblog to see where we end up!) and wanted to share some of my finds and must-haves with you guys! Below are 5 things to pack for every beach vacation.
1. A good read! I've talked a lot about my new book for the new year and I've gotten so many questions so I wanted to share! It's called The Happiness Equation. There's nothing better than having a good read while you are lounging at the beach – this has been such a good one so far! I definitely recommend it.
2. A new swimsuit: No matter how many swimsuits you might own, nothing puts a beach vacation over the top like a new swimsuit. There's nothing better than feeling confident at the beach, and you can't help but feel confident in a great swimsuit. I'm obsessed with this nude lace-up one and this ruffled bikini. I also just ordered a couple new ones that I'm so excited to share over the next week!
3. A beach bag: A good bag for the beach isn't just a plus, it's a must. There are so many beach necessities for a day on the sand that you can't go without a bag and bringing your leather or suede bags it just asking for heartbreak haha. I love this crochet bag and this straw option!
4. A good sun hat: Ok you guys I have been crushing on these embroidered hats for yeaaaars! They are so stunning and 100% Instagram-worthy. Also love this option under $50.
5. A fresh mani/pedi: If there were ever a time for a fresh mani/pedi, it's right before a trip to the beach. I've been obsessed with nude nail polishes recently – they are so sophisticated and match with everything so you don't have to worry about your nails clashing with everything you packed. This set has so many perfect nude tones!
Below are a few more great beach pieces I'm obsessed with!

Also congrats to Hannah Shanae on winning the Louboutins giveaway! Send me an email so we can get you your prize! And thanks so much to everyone who entered!
XX, Christine