WHITE MAXI CROCHET DRESS  (SIMILAR HERE UNDER $100 – OBSESSED WITH THIS ONE UNDER $50!)
This year my side of the family decided to skip out on presents and do a family getaway! Cody, the kids, and I had gone to Hawaii last January for Mara's birthday and it was one of our favorite trips so we wanted to make it an annual trip! We were so excited to have the whole crew out there with us! My parents, aunt and uncle, cousins and there kids, it was a party with the full group of 15! With so many of us we wanted to stay somewhere that had lots of stuff to do for everyone.
Oahu is actually pretty big, so we stayed on a whole different side of the island than last time we went. It felt like a completely different trip! With that here are 9 of our favorite things to do at the Four Seasons Oahu:
1.BREAKFAST WITH A VIEW: With the time change we were up pretty early each morning so we caught almost every sunrise and sunset. The kids loved the breakfast buffet because they got chocolate and sprinkles on their waffles or loads of whip cream 🙂 I tried a couple different things on the menu, anything with eggs is always my favorite! The kids also get a free toy so they were really excited!
WHITE OFF THE SHOULDER MAXI
| 
TORTOISE SUNGLASSES
|
WHITE WATCH
2. GUYS GOLF GETAWAY: We went to Hawaii with my parents and cousins and their families and it was so much fun. While we had girl time, the guys snuck away and went and played a round of golf at the Ko Olina Golf Club. I'm an only child so my Dad gets really excited to do stuff with Cody and hang with the guys. I was really excited there was something there for the guys to getaway and do their thing.
3. SOAK UP THE SUN AT THE POOLS: The Four Seasons has have three different pools on sight. We spent so much time at the pool!! The pool grounds were so beautiful! ADULT POOL:  They have an infinity adult area which is the best spot to watch the sunset. Since we had my family with us Cody and I were able to sneak away a couple times for some time just for us.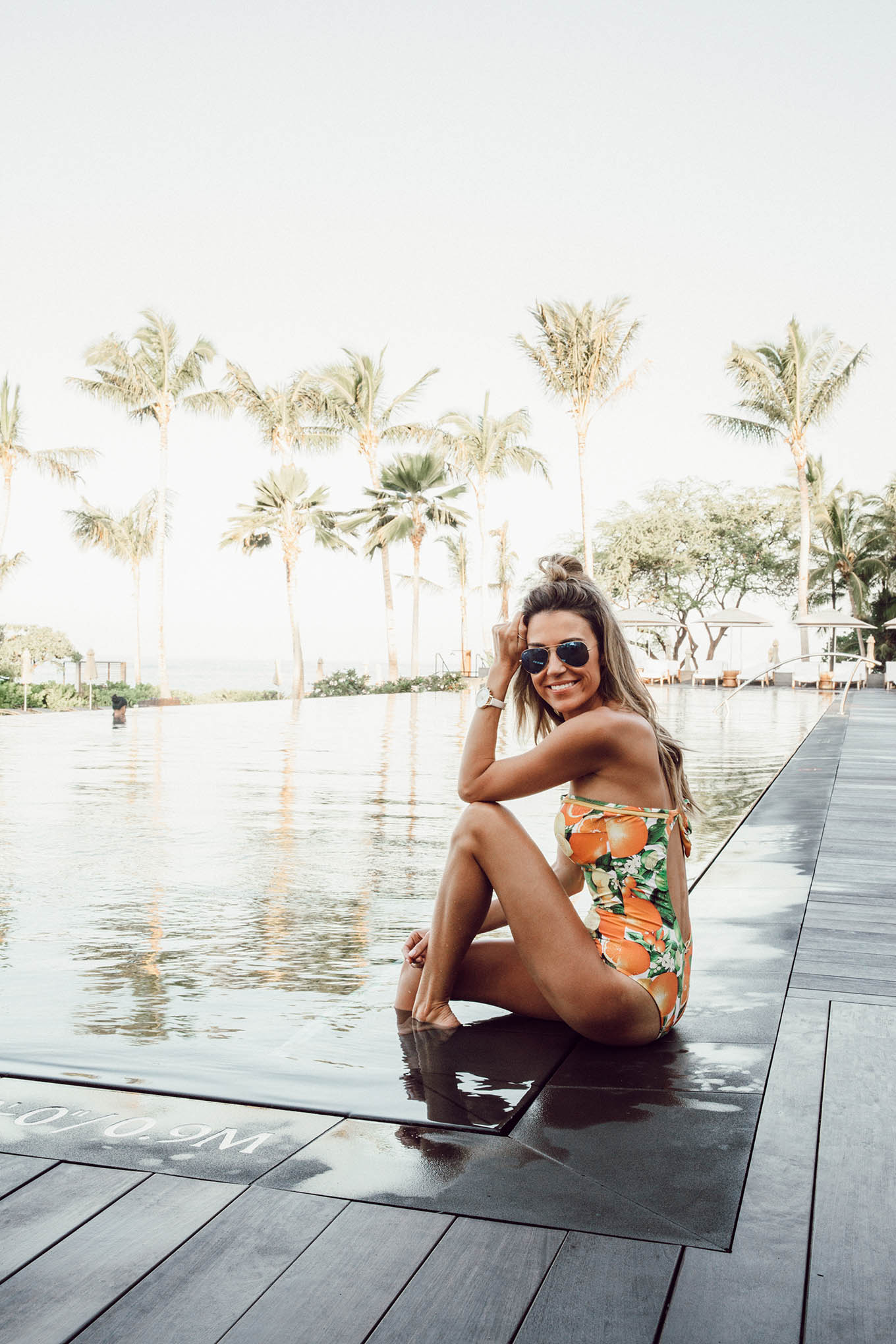 Pin It
DETAILS: CITRUS PRINT SWIMSUIT (MORE SIZES HERE – BIKINI HERE UNDER $100 -LOVE THIS ONE UNDER $25) | AVIATORS | WHITE WATCH
KIDS POOL: The kids area was where we hung out the most. They have a huge pool for kids and the best part is they have a really shallow area that is attached to the bigger kids pool so Beckam was able to play in the huge area where he could stand and Mara and Wes could swim all in the same spot. They seperate it with a little wall so they are connected but not, if that makes sense. Also a huge perk, kid's under 5 eat for free, kids meals over 5, are only $6 and they come with a ton of food. It was big enough for Mara and Wes to share one.
This is the shallow area B pretty much lived in! Wes would pull him around on his boogie board. They loved it!
DETAILS: BLACK BIKINI TOP (UNDER $100)
We would swim until like 7 or 8 at night sometimes. The kids are seriously little fish!
4. FREE BEACH AMENITIES AND CLOSE BEACH ACCESS: There's a hut at the Four Seasons Oahu where you can rent sand toys, boogie boards, and all your beach toys and necessities for free. We took the toys and board with us when we went to beaches off site which was super nice! They also have beach bags and towels you can take with you so it makes exploring outside the resort really easy. There is beach access right on the property and lots of other cute coves that are with in walking distance with more beach access.
View from our room 🙂
My parents always dressed my cousin and I in matching outfits so I get excited to get the girls matching things too 🙂
This beach was about a five minute walk from the resort. We loved to go their at sunrise and watch the tide come in!
5. SNORKELING AND PRIVATE YACHT TOUR: This was such a fun family activity! We went on the Serendipity, the Four Season's private yacht for a family snorkeling experience and all the kids got to snorkel too (well minus B). Mara and Wes needed a little extra encouragement to get in the water, but once they did they were excited. We were hoping to see dolphins (they said typically you get to see dolphins and whales on the tour) but I was bummed we didn't catch any this time. We did see the cutest blow fish, oh my word! He wasn't puffed up yet and had the hugest, cutest eyes! The snorkel instructor even fed him and the kids were so excited to get to see it.
We saw so many sea turtles! They were so big!! I feel like pictures you can't tell when there is nothing next to it for size comparison but they were so cute!
B fell asleep sitting up it was so cute!!
DETAILS: BLUSH BIKINI (SIMILAR HERE) | DISTRESSED BOYFRIEND SHORTS (SIMILAR HERE) | HEART HEADWRAP | SUNGLASSES
6. COUPLES MASSAGE: Cody and I are obsessed with massages. We go pretty consistently at home so when we are traveling its always one of our favorite things to do together! The spa area at the Four Seasons was SO pretty! They had all these tropical plants and you can get your massage with open doors so you can hear nature and soak in the beauty while you get a massage.
7. MAKE LEIS: When you check in you get a calendar of activities on the property, 90% of them are free, like lei making, painting, jewelry making, etc. Our family loves crafts, I was an art major so it's one of my favorite things to do with the kids. Anything crafty we are in! Lei making was probably one of my favorite things we did on the island!!
Lei making with the little princess!
DETAILS: CROCHET MAXI DRESS
8, DINNER AT NOE: This restaurant was sooooo pretty I couldn't believe it! There were hemp lights hanging from tree branches around the tables and it was right next to a little stream, covered in palm trees. It was seriously picture perfect – it was all I could do to stop taking pictures and eat my dinner. 😉 I tried squid for the first time ever! I was surprised there wasn't a fishy taste at all, but I'm a freak when it comes to texture so it didn't make it onto my favorite foods list 😉 but the bruschetta and lobster spaghetti were really good!
DETAILS: BLUSH OFF-THE-SHOULDER DRESS (SIMILAR HERE) | TORTOISE SUNGLASSES
9. CATCH EVERY SUNSEST AND SUNRISE: We made it a point not to miss a single sunset while we were in Hawaii. If you stay on the ocean view side of the resort, you can get an amazing sunset view from your room. There are also so many spots to enjoy it on the resort. One night we watched it from hammocks, another night from the inifiniti pool, from our table at dinner, and there's also easy beach access for a straight beach meets horizon view. We even saw 2 couples getting married during sunset while we were there. (I always love seeing brides in their pretty dresses!)
BLUE EMBROIDERED DRESS | LACE-UP SANDALS (SEE FULL OUTFIT IN THIS DRESS HERE)
All the cousins! They are all close in age and are seriously best friends! I love watching them all play together!
TRAVEL TIPS FOR THE RESORT:
The Four Seasons Oahu is a 20-30 minute drive from the airport
It's set in a cove so the water is really calm and there's instant beach access from the resort. There is also another cove that is walking distance that is known for sea turtles!
My kids are ALWAYS snacking so we stopped at Target which is only like 7 minutes away and loads up on snacks to keep in our room.
Kids care: We had so much family with us we had lots of babysitters if Cody and I wanted to go do something for an hour, but the resort also has a kids area where the kids can do all sorts of crafts and games. It's a huge area! It's available for free from 8-5 I think, I can't remember the exact hours, but we went in the last day just to look at it and the kids didn't want to leave! So if your traveling just with your family it's a great opportunity to just get a quiet meal with your significant other while the kiddos play or something.
Renting a Car: Our family got a van because we have a little bit of ADD when we travel and love to explore beyond the resort where we are staying, but we met multiple families at the resort that were there for a week and never left, so there are definitely enough activities and amenities that you don't have to leave. So I think it's really a preference and comes down to your travel personalities 🙂
Nearby Food:
There are so many great restaurants within walking distance from the resort. Below are a few great spots we tried. (These were all right across the street – literally a 2 minute walk but they also have golf carts available and the kids were always so excited to ride the golf cart to dinner.)
J

ust Tacos Mexican Grill & Cantina

: Of course we found a Mexican place while we were in Hawaii. I'll vote for Mexican food at any place or time. 😛 Just be sure to get the mild salsa because the hot one burnt my mouth so badly – you'd think with my latin blood I could handle it. 😉

Monkeypod Kitchen

: This was a great spot and had something for everyone in the family. They are known for their happy hour – pizzas were just $9! – and make sure to try dessert! The banana cream pie was sooooo good.

Island Country Markets

: I didn't get a chance to try this one, but my dad for banana pancakes for breakfast at the cafe in the market and said they were really good.
If you guys have any more questions about our trip let me know!! I'll be sharing some of our favorite beaches we visited soon 🙂
XX, Christine
*Special thanks to the Four Seasons for hosting our family