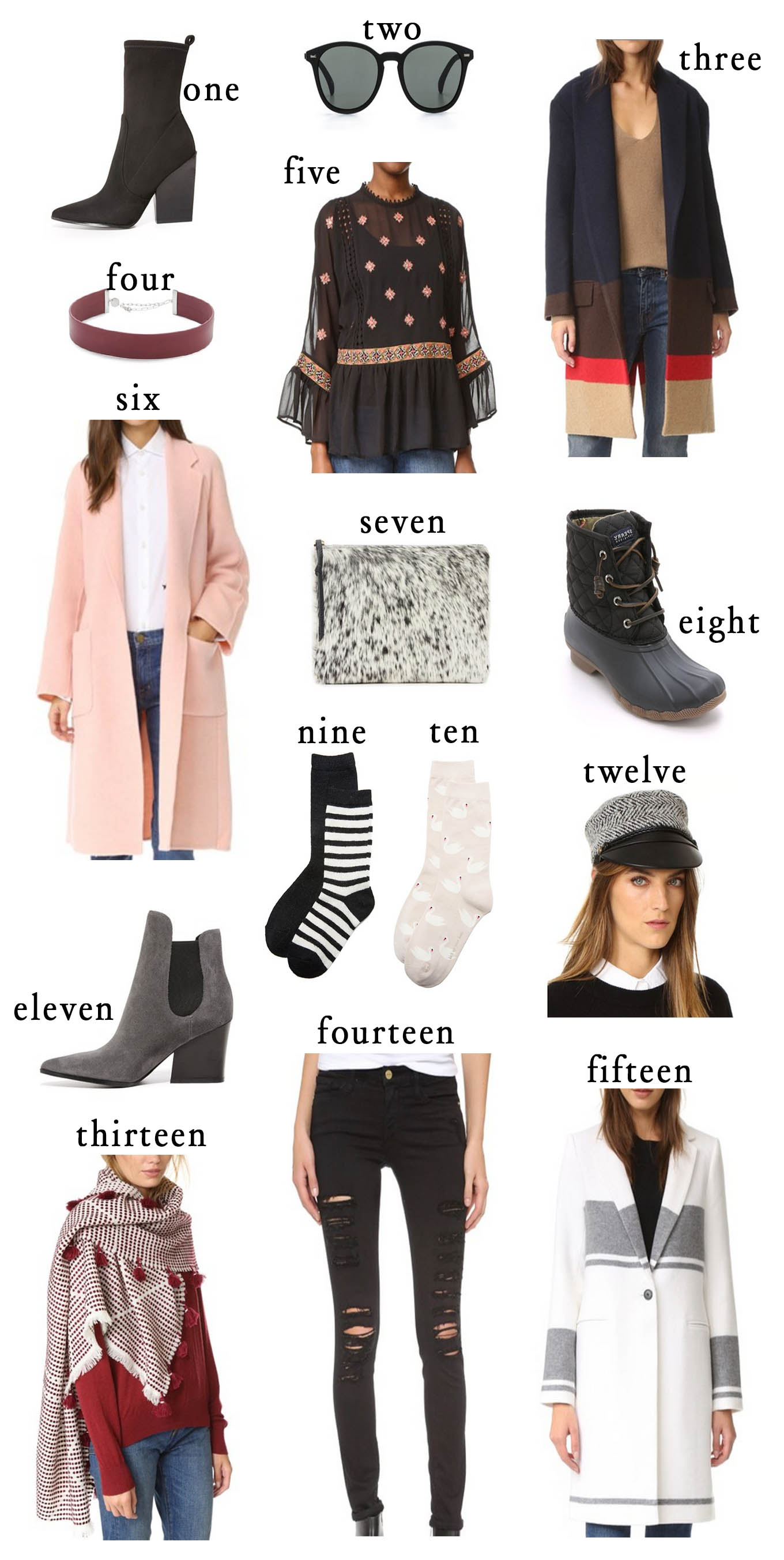 Pin It
ALL ITEMS ABOVE 25% OFF CODE: MAINEVENT16 1. BLACK BLOCK HEEL BOOTIES | 2. SUNGLASSES (UNDER $100) | 3. COLORBLOCKED COAT | 4. BURGUNDY CHOKER (UNDER $100) | 5. EMBROIDERED SHEER TOP (UNDER $150) | 6. BLUSH COAT | 7. CALFHAIR CLUTCH | 8. BLACK DUCK BOOTIES (UNDER $150) | 9. STRIPED SOCKS (UNDER $10) | 10. SWAN SOCKS  (UNDER $10) | 11. GREY BOOTIES | 12. WOOL CAP | 13. STITCHED SCARF (UNDER $100) | 14. DISTRESSED DENIM | 15. WHITE AND GREY STRIPE COAT
Finding out about the Shopbop sale is always like the best surprise 😉 It's is one of my favorite sales of the year since you can get even new arrivals and best sellers for 25% off. Everything always flies out of stock so I wanted to hurry up and share some of my favorites before everything sells out!
I have been drooling all over Shopbop's outerwear collection! How pretty are these striped and colorblocked coats! Also love this gorgeous blush coat – it's the perfect layer over your oversized sweatshirts and boyfriend jeans. And I'm so excited for scarf season!! They are the best accessory for layering and add so much dimension to your look. This stitched burgundy one (under $100) is so good and this striped one is 100% next on my buy list. Also I'm obsessed with Kendall + Kylie's pieces! I just ordered these boots and this grey pair was a close second and they are both at a pretty reasonable price point.
Let me know what you guys find! You can use code: MAINEVENT16 to get 25% off your purchase of 30% off any orders over $500. Sale ends Friday!!
Below are a few more of my favorite finds from the sale:


And some great finds under $100 here:
XX, Christine