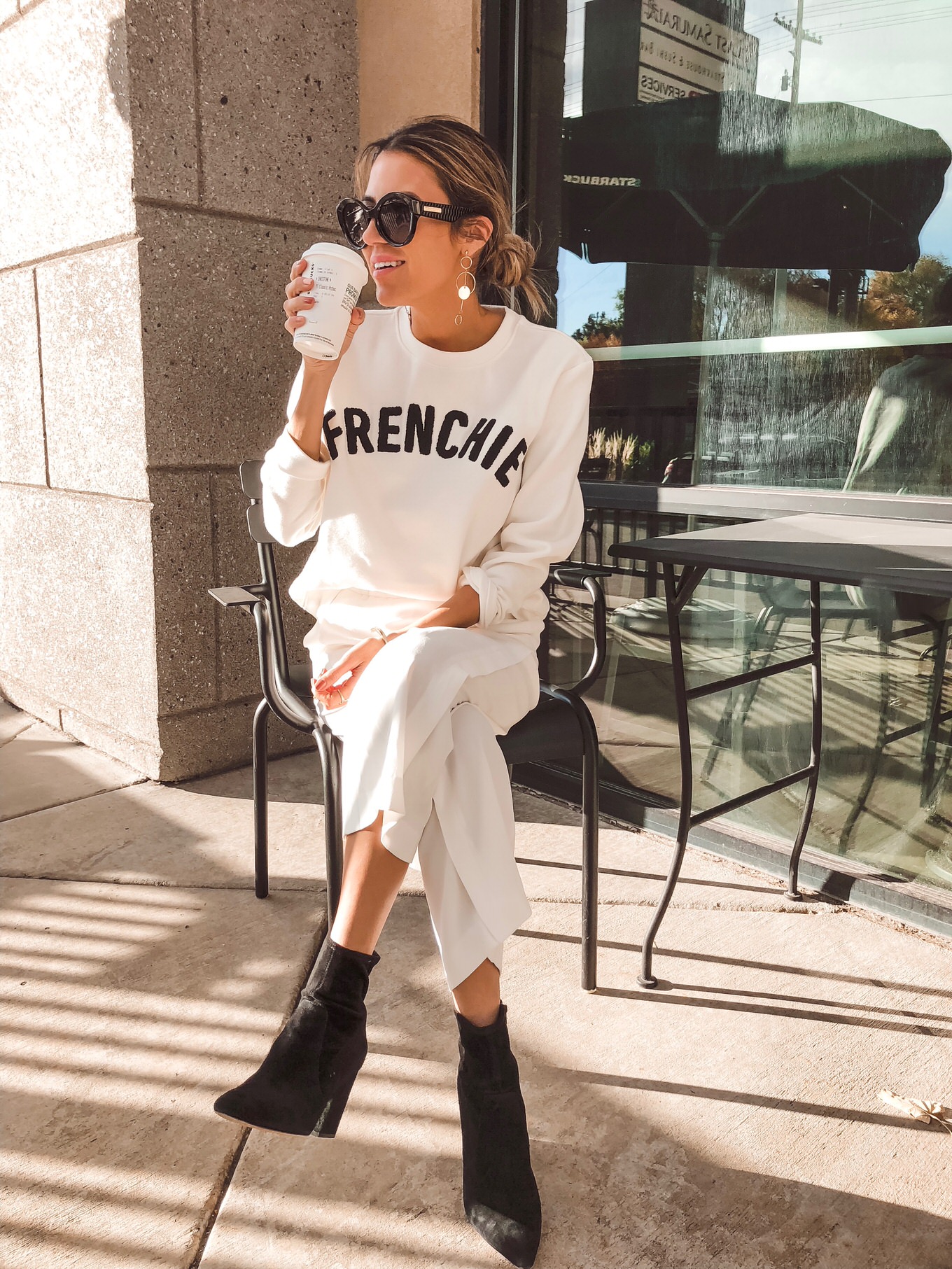 Pin It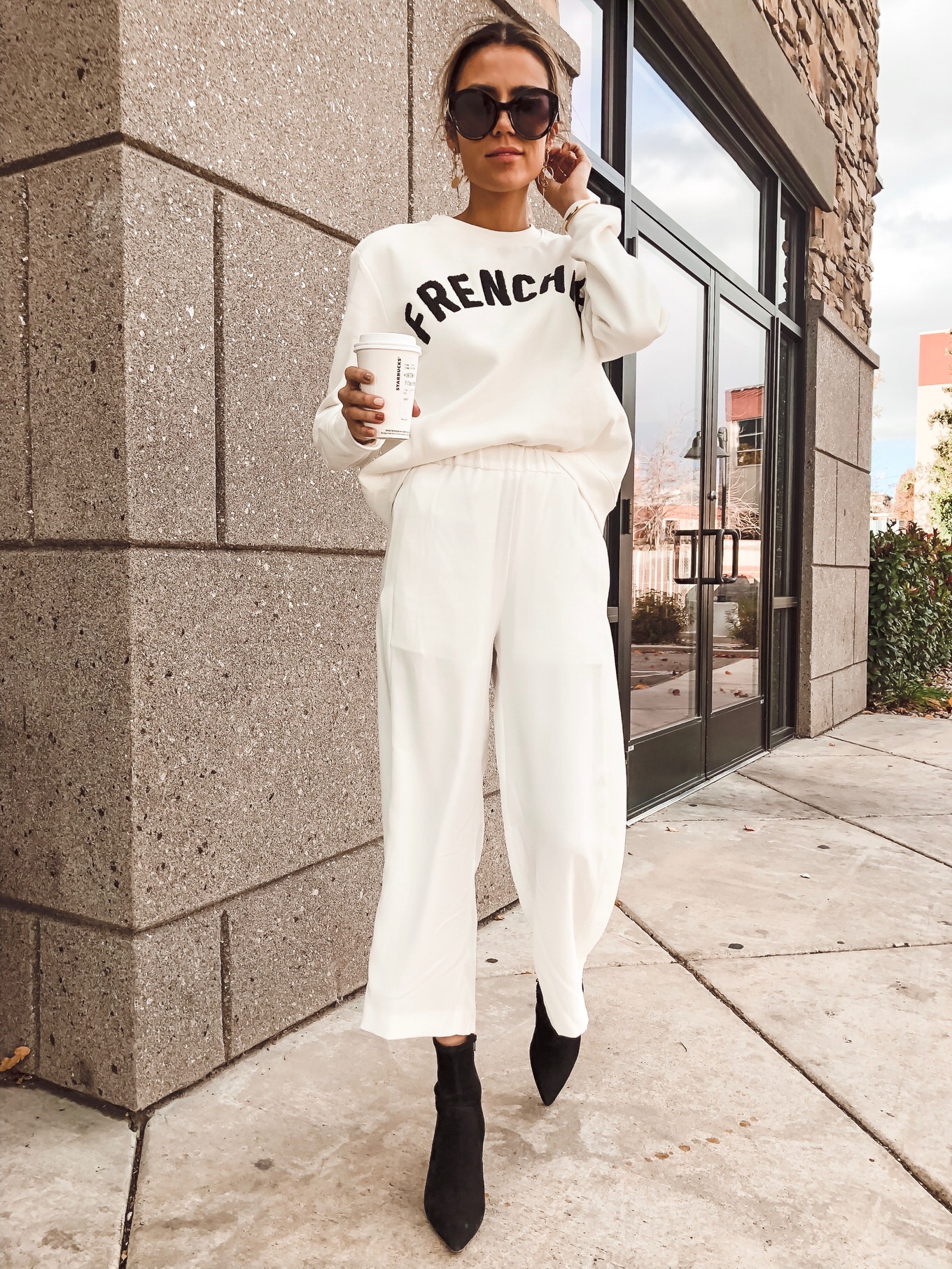 Pin It
OUTFIT DETAILS:  SWEATSHIRT (Under $25!) | PANTS (Under $15!) | SUNGLASSES | BOOTS
Happy Sunday!  Hope you all had a great week. I'm excited to answer some questions this week – you guys send in the best questions!  I get a lot about being a step mom and the fertility journey so I made sure to include some of those below. 🙂
1. How often do you see your step kids?
We share custody with their mom, but she has primary custody. Its nice because we live close to each other so now that they are in sports and stuff we still get to go to their games and school activities and see them even on the days that we don't have them.
2. Favorite TV shows right now?
We watch The Office or Seinfeld every night before we go to bed when we don't have a series that we are in to. Or just to shut off for the night if we are watching an intense series. We just got into Designated Survivor which we love. We finished Ozarks last month which was so good! (This is an adult show so if you're a younger reader I would stay away 😉
3. How do you stay so thin?
Because of my genetics I am naturally thin but if I'm not working out or being active I loose muscle fast and feel soft and kind of bloated haha I don't really know how to explain it.  I workout to stay toned and because I love the way it makes me feel. It give me more energy for sure and helps with stress.
4. Do you follow a strict diet? Or if you want something do you let yourself have it?
I for sure indulge and let myself have it!  I will try different things like cutting sugars or not eating as much processed food or soda but as much as I wish I could, I can't stick with those diets for too long so I try to set short term goals for myself. 
5. What are your favorite makeup products these days?  Favorite eyeshadow?
My favorite eyeshadow right now is this palette I just got from Bobbi Brown – its so pretty! Other products I am loving lately are: this bronzer, this mascara, this primer, this eyeliner, this foundation, and this brow pencil! **And good news!! Sephora is having their Beauty Insider sale right now…everything is 15% off through Monday! Time to stock up 🙂
6. How is your infertility journey going? What are your next steps?
We got some answers from the doctor last week and I'll be sharing more soon – thanks for all of your sweet messages and notes it really means so much to me. ❤️
7. Favorite store to buy nice shoes?
Saks definitely has one of the best Designer shoe selections. I am pretty loyal to Nordstrom so I look there a lot too but their styles are more mainstream if that's what you are looking for! Net-a-Porter and SSense have more unique styles.
8. What happens to all the clothes you model. Do you keep them? Are they loaned?
97% are either gifted or I buy them, on a rare occasion for really expensive jewelry where I have worn multiple pieces for a post they can be loaned to style shoots. A majority of the clothes are mine and the clothes I don't keep I give to my friends and family. I will sell the higher end pieces and do blogger sales. I donate a lot to charity and I give a lot to my family's church in Montana where they donate to foster kids that don't have clothes.
9. Your favorite wardrobe staples?
For fall & winter, when it gets really cold I don't get ready as much because I hate being cold!! So to be honest I am in sweats and comfy clothes a lot.  I recently got this new fuzzy hoodie and love this jacket and this pink corduroy jacket.
I think its worth investing in a nice handbag but thats always relative to your budget, don't make yourself go broke over it!  Pick something that is timeless – pick something that is a neutral color. Buy one bag that is nicer that can work with multiple outfits instead of 5 cheaper ones. My favorite designer bag is this one. 
I found a tan suede bootie after my hunt last week! A couple of you actually emailed me and it was so sweet!  I have had them on repeat this week. I also just got this pair in the mail and I love love them!!
And lastly, a comfy pair of distressed jeans will always be one of my wardrobe staples. The pair I definitely wear the most and am most asked about are these.  
10. How did you feel about becoming a step mom?
It was never an issue to be a step mom because my parents got divorced when I was little and my step mom was always so great to me. She was such a good example and I grew up with a loving step mom so that really helped me when I became one. She always treated me with so much love that I was excited to be a step mom too 🙂 I'm not saying it isn't hard, with any situation there are always hard emotions you have to navigate through. But the idea of being a step mom was never hard for me! Even if you didn't have a step mom growing up it doesn't mean you cant be a great step mom! I can't imaging our family without Mara and Wes and I made a conscious decision early on to treat them as if they are my own. Go in with a mentality that you don't want to replace their mom but that you will love them and treat them as your own.
11. What's Cody's profession?
He's an entrepreneur and runs and manages couple different companies. 
12. How do you deal with mom guilt especially when traveling without Beckam?
Its definitely hard, but my parents live out of town and so I look at it as a good opportunity for them to watch Beckam and spend time with him – they usually come to town to watch him or he goes up to Montana to stay with them. He loves being in Montana and I love that he gets one on one time with them.  Some times are harder than others but I am always excited and re-energized to come home and be the best mom to him I can be!
13. How tall are you and Cody? 
Cody is 6'3" and I'm 5'7" and 3/4…I like to claim 5'8" 😉
Thanks for sending such great questions and following along.  Love you all!
Xx,
Christine