Thanks for all your recommendations for our Whistler trip! We had soooo much fun and so much good food – just a great time with great people. I'm trying to do better about getting my travel guides up sooner and I think this is a record! The Four Seasons and Landeau  put together this amazing experience for us, below are seven of our favorite things from our Whistler adventure.
DETAILS: GREEN SKI SUIT  | ILY BEANIE (old not available anymore 🙂 | CODY'S BLACK PARKA
Whistler Blackcomb Skiing/Snowboarding: I did cross-country skiing as a kid and really enjoyed it but I have only been downhill skiing once before this trip. I went once in high school and fell down so many times trying to get down the bunny hill that I gave up and spent the rest of the day drinking hot cocoa in the lodge while everyone else was skiing. This time, we had an Olympic athlete, Robbie Dixon, actually teach us how to ski. He thought we had all been skiing before so he took us to the top of the run. When he realized none of us knew what we were doing it was an "uh oh" moment for sure haha. It felt like the hill went on forever! For the first few minutes I kept falling while I was practicing the 'pizza' move. I was going straight instead of criss crossing across the mountain. Once he helped coach me on going side to side it was so fun! I will say my legs were sore for like 3 days after, but so worth it! Maybe I won't wait 15 years before going again haha.
Dining with a view: We ate at this restaurant on the top of the mountain called Christine's (so obviously I was destined to like it ;).  It's a little fancier food as far as restaurants go but it has 180° views of the mountain and ski resort, so it was such a cool view to go with your meal. They also have a cafeteria side, the Rendezvous, where the views aren't quiet as good but it's a good option for something more budget-friendly.
The Bread At Sidecut Steak House: Yes, this deserves a bullet point all on it's own! One night we had dinner at Sidecut, the Four Seasons Steak House and seriously, when you go – order 50 loaves of their bread! It's the best bread I've ever had in my life and there's something in the butter that makes it sweet. I think I ate 3 loaves all by myself. I could go on forever about the bread but it still won't do it justice – you have to try it! The rest of the food was amazing too – the crab was also so yummy.
DETAILS: WHITE AND BLACK PARKA | BLUSH BIKINI (UNDER $50) | MOONBOOTS
Pools/hot tub: I don't know if it's just me, but I always look forward to pool perks at hotels! The pools were heated, and  during the winter with the snow falling, it feels like a scene from a movie – especially at sunset! Plus, not a bad way to warm up after being on top of a glacier, haha.
Landeau totally spoiled us with tons of flowers! They are actually based out of Vancouver. I've always been obsessed with their flowers on Instagram and we don't have one in Salt Lake so I was excited to get some of their bouquets and so sad I couldn't make them fit in my suitcase on the flight home!
Nighttime snowmobiling: This was such a fun excursion! You take a snow mobile ride (you can choose if you want to ride solo or with your plus 1) for about 45 minutes to an hour up to a cute log cabin for a fondue dinner. If you are a first-timer on a snow mobile, it's the perfect intro. The guys started to get a little antsy and kept trying to go tricks and got in trouble because we were all supposed to stay in a single file line. For the girls, we were perfectly content obeying the rules haha. (Tip: The food was delicious but fondue is usually a light dinner so we had pizza by the slice beforehand.)
Timmy Horton's – This trip was my first intro to Timmy Horton's. Our bus driver got us super excited for this Canadian classic, and while it wasn't what we expected it did not disappoint. There was one every couple feet, so you have to stop at least once and try it. It's a donut shop, and from what we heard definitely a Canadian culture staple – it was actually started by a famous Canadian hockey player.
DETAILS:  WHITE SNOW PANTS (FULL SUIT HERE) | BLACK PARKA | MOON BOOTS | OVERSIZED KNIT SCARF | ILY GREY BEANIE (OLD ILY – SIMILAR HERE) | SUNGLASSES
CODY: BLACK PARKA | SNOW BOOTS
Blackcomb Helicopter Glacier Tour: This was such an amazing experience  – definitely something you need to try once in your lifetime! You can see the full post here, but they have helicopter excursions to the glaciers, but also to check out the ice caves or just to go on a scenic helicopter ride. Such a cool adventure and hands down one of our favorite things this trip.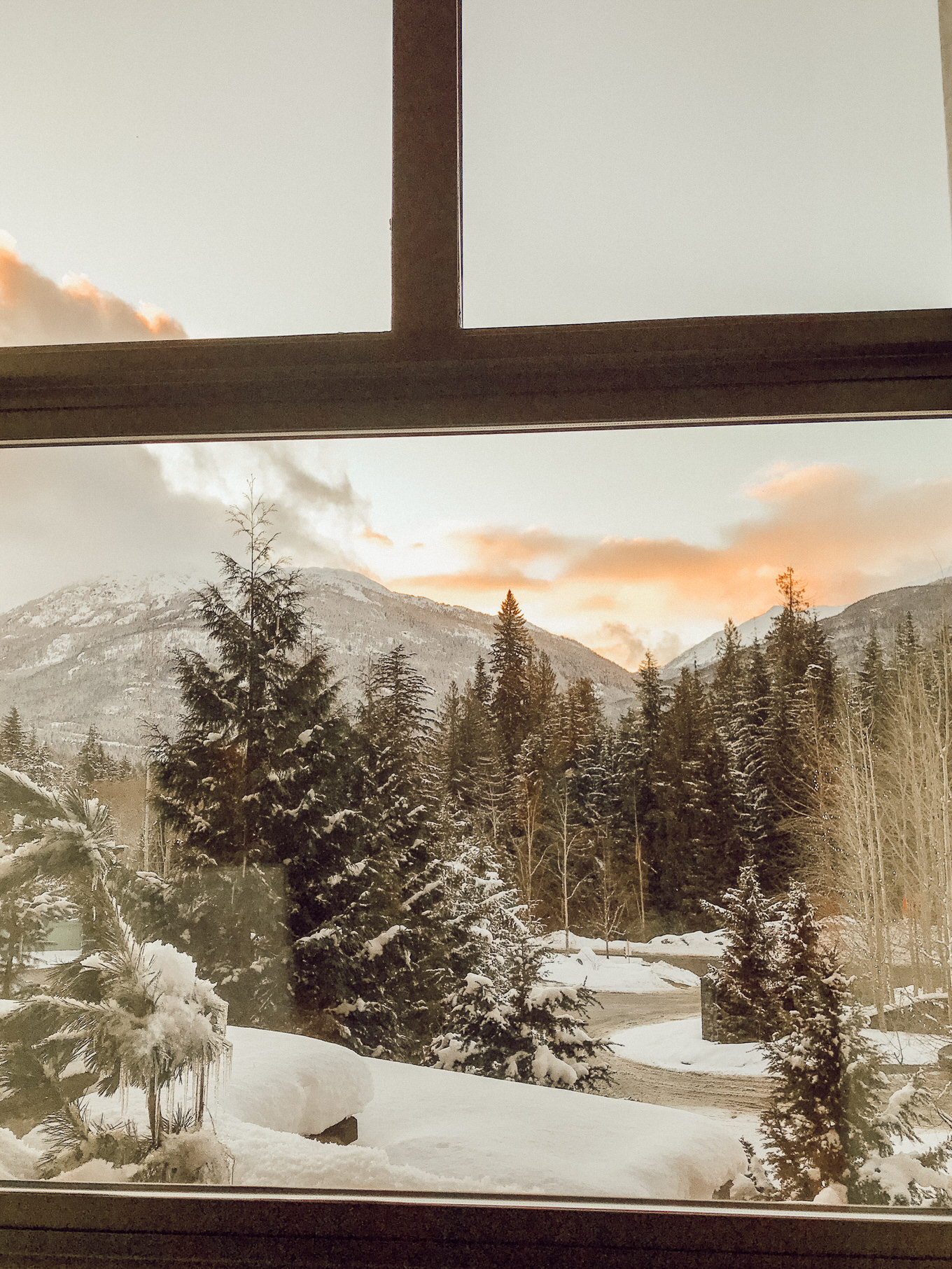 Pin It
DETAILS: ONE SHOULDER SWEATER (SO SOFT!) | DISTRESSED DENIM | BLACK BOOTIES | BEANIE | SUNGLASSES
CODY: DENIM JACKET | BEANIE | JOGGERS | SNEAKERS
A night in: We stayed in the residences at the Four Seasons Whistler instead of the hotel side. I was a 3 bedroom residence, so we had plenty of space, but it was so nice having a place to hang out altogether – I really recommend the residences for large groups or families traveling together. There's a full kitchen, fireplaces in each of the bedrooms the living room. It was super cozy and the perfect spot for everyone to get together and hang out to play card games. We've heard summers are incredible here so we are planning to come back with family or friends.
Have you guys tried any of these before? Or what are some of your favorites that I missed?
Below is a quick video we made from the trip 🙂 If you don't already subscribe you can subscribe to my YouTube here. Have a great weekend!
XX, Christine
*In collaboration with Four Seasons Whistler and Landeau.