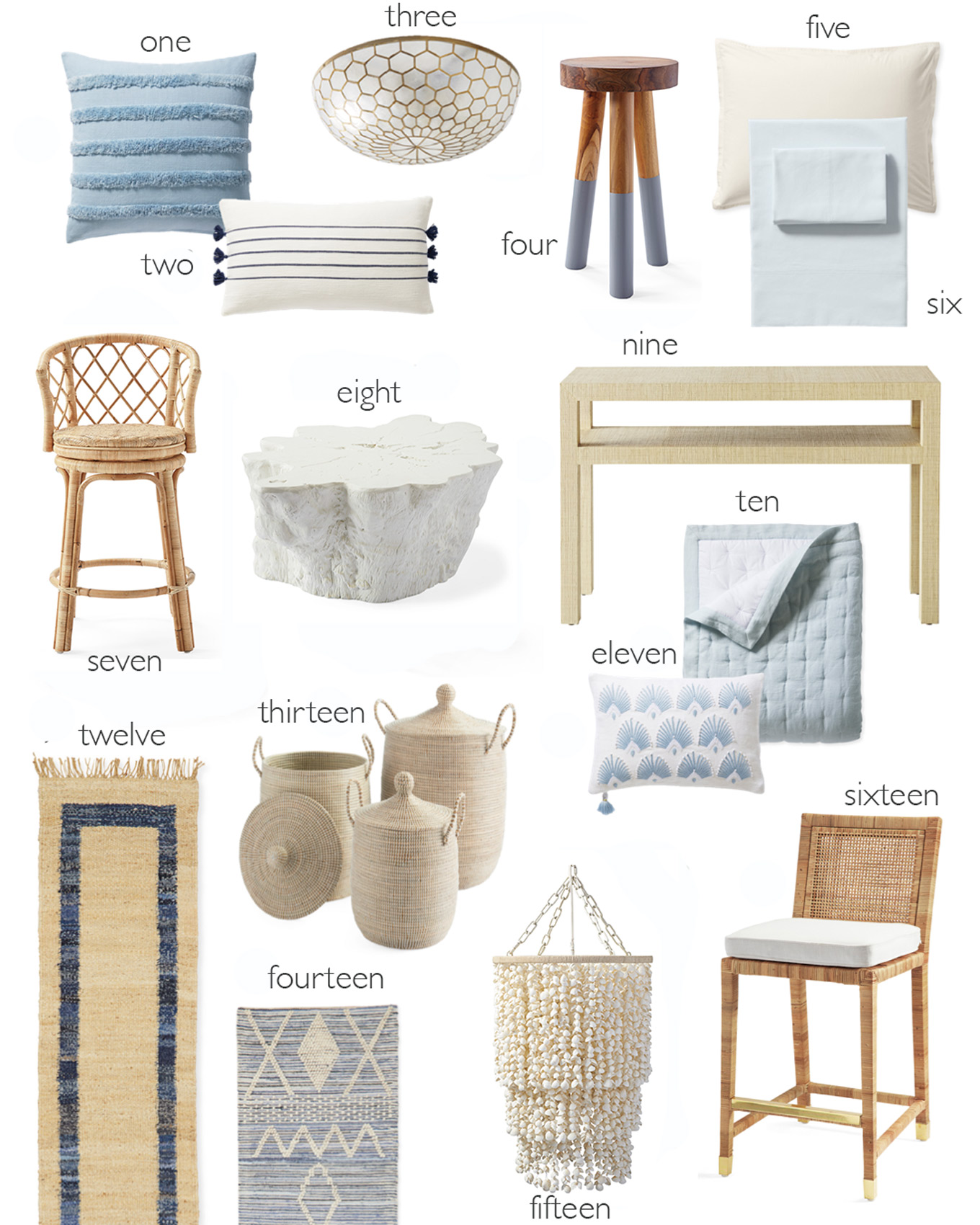 Pin It
DETAILS. 1. BLUE FRINGE PILLOW COVER  | 2. WHITE STRIPED PILLOW COVER | 3. HONEYCOMB LIGHT FIXTURE | 4. DIP-DYE STOOL (UNDER $100) | 5. DUVET SET  | 6. PERCALE SHEET SET | 7. RATTAN STOOL | 8. WHITE WOOD COFFEE TABLE | 9. WOVEN BASKETS | CONSOLE TABLE | 10. LINEN QUOTE | 11. EMBROIDERED PILLOW | 12. JUTE RUG | 13. WOVEN BASKETS | 14. DENIM WOVEN RUG | 15. SHELL CHANDELIER | 16. RATTAN COUNTER STOOL
Guys, I still have so many posts I need to put together on our new home and I promise for all those who have sent in questions, I'll be answering soon! We are still finalizing a lot of spaces and I'm still in the process of decorating, so I wanted to share a few of my favorite pieces from the Serena & Lily sale where the entire site is 20% off with code INSPO (ends soon!).  I've had a few pieces in my cart for a bit, and they never do this sale, so it's just the push I needed to pull the trigger! Also wanted to share a few quick lessons I've learned while going through this decor process – keep reading to see
It really is all in the details.
I never realized what a difference even the smallest changes make, from baseboard trim to light fixtures. Getting all new furniture can really add up, but making a few updates to your lighting, decor, or even just throw pillows can go a long way! I love this striped pillow – how cute are the side tassels! Also this light fixture –  we brought the honeycomb pattern into our new house in a few spots, and now I'm craving it everywhere. For more of a statement, I'm obsessed with this shell chandelier.
Picture [it] perfect.
I'm such a visual person which I've realized is one of the hardest things about the process for me when it comes to decorating. I have such a hard time deciding on different decor items without seeing them in person, but the turnaround time for furniture is so much longer than clothes (obviously) so it's not an ideal process. I ended up putting together mood boards with all the pieces I was thinking of for the room to see how different pieces would come together. It might seem like a time-consuming step, but taking a few minutes to help myself visualize a space ends up saving a massive headaches in the long run.
Neutrals vs. Color.
This is one of those things I've learned in fashion that I found myself adopting in home decor, too. If you've followed my for a while, you've seen a gradual transition towards neutrals. Colors are always going in and out of season, but when it comes to those investment pieces, its the neutrals that will be truly timeless. I love bringing color in with pretty accents that are easier and more affordable to swap out occasionally as your taste changes. These rattan stools are one of those neutral pieces you'll love forever (also these!) and I love this console table. Also obsessed with these dip-dyed stools! Such a great balance of neutral and color and they are under $100.
Sale ends soon, but just a reminder to get 20% off with code INPSO Also, I would love any other tips you guys have for decorating!
XX, Christine